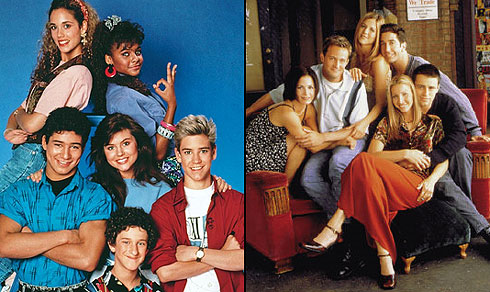 So the last few mornings, while I've been doing my morning workout routine, I've been watching a lot of Saved by the Bell.  Much to my delight, it has been on in some ridiculous three-hour marathon pretty much every weekday morning, at the same time that I'm up and doing my morning routine.  For the last two weeks, every morning has been kind of a trip down memory lane, in some respect.
However, the episodes aren't exactly placed in any particular order; some have been right after the Miss Bliss era, and they've jumped as far as into the College Years afterward.  Not that it's any big deal to me since I've pretty much seen every single episode, but it did make me notice something, which is the chief reason why I decided to kill my last day on this particular assignment in Lithonia (which Lithonia sucks; when a Starbucks fails, you know the region is devoid of any success) with writing about a comparison . . .
Saved by the Bell was the show Friends, before Friends was Friends.
Continue reading "The Saved By the Bell / Friends Connection (A weak one)" →