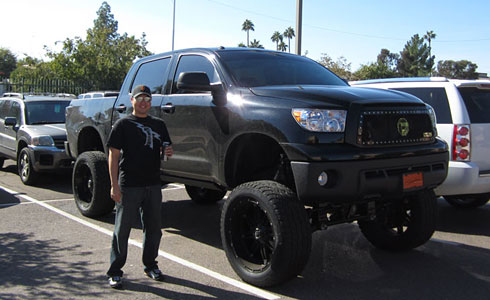 In short, the Arizona Fall League has more or less ruined me as far as live baseball experiences are concerned.  Parking is free at all these small, intimate ballparks.  There are only general admission tickets that are $7 a pop, and allow you to sit anywhere you want, including right behind home plate.  And unlike in Spring Training where there are veterans loafing it and not taking the games seriously, the Arizona Fall League is nothing but 19-25 year olds playing their hearts out, because every ounce of effort could possible get noticed and get them called up to the Majors sooner rather than later.  Baseball at it's most pure and innocent, and frankly, most beautiful.
I also shagged five baseballs because hardly anyone is at these games, and got into one game free, because a stadium worker just didn't really care and let us in, but it's instances like getting to go right up to Bryce Harper's douchy monster truck and take my picture next to it that is really awesome.
I look forward to going to Arizona again in the future, even if it's boring as fuck outside of baseball.  At least the food is really good.