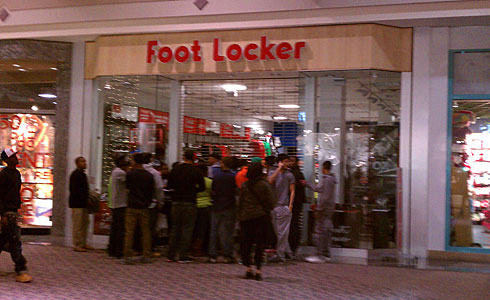 Too easy.  It's like being pitched a grapefruit to hit.
Although, it was something that kept me laughing for the better part of the day.
I don't know why I'm writing about Black Friday first, when I've got other things that I should be writing first, like my Nanowrimo story that I'm falling behind the pace with, or the baseball column I write every week, but here we stand.
I've been awake since 3:00 a.m., and I've probably spent around $600 over the last 24 hours.  Some of it is for gift purposes, some of it is for personal indulgence, and some for simply house or useful purposes.  But the good news is that the whole Black Friday experience, which naturally has a very high chance of disappointment, was once again fortuitous for me this year, as it was the last few years I've spent Thanksgiving at home, and not traveling.
I bought a new home theater system, since my previous one crapped out on me; note to all, it was a RCA unit, meaning all RCA products are now dead to me.  And the verdict is instantaneously an improvement, as the surround sound on this Panasonic unit is exquisite.  The rest of the stuff I spent money on were mostly clothing, housewares, and miscellaneous things needed around the house, but all in all, I feel good about this Black Friday, and felt an impulse to write about it.  It's nice to be one not seeking a new television, video game console, computer, tablet or three-item Crock pot, because then the chances of landing what you really want seem slightly better.
Although I thought there would be more for me to write about, apparently there isn't.  Either fatigue is fucking with my head, or really beyond the ironically humorous visual provided, there really wasn't that much for me to have written about when I should be saving these words for Nanowrimo instead.