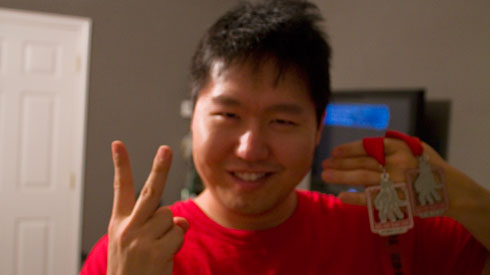 That's right. Two-time! Two-time! Zombie run winnar!
So while I nurse my sore limbs and achy body parts, let me reminisce about the Atlanta chapter of the zombie run. Despite my trepidations going into the event, I can pretty easily say that I had a good of time as I did in Maryland, despite my reluctance up there too. If anything, I would venture to say that it was more fun than the first, for a myriad of reasoning.
Without much argument, the Atlanta zombie run was executed a million times better than the Maryland one. Granted, the Maryland zombie run back in October had the dubious task of being the inaugural event in which the bar was set, and all its failures and successes were what all the other chapters were to build off of, but the parking debacle and the tedious shuttling really, really hurt it badly. Whether it was superior planning or luck of the draw, Georgia's venue for the event was far superior in the fact that there was plenty of on-site parking and no shuttles were necessary, and the local police appeared to be in cooperation and ready to deal with the traffic jams that never happened, probably because of the tornadoes or threat of them that ripped through the state the night before.
Continue reading "Somebody call my mama, these legs are registered weapons" →