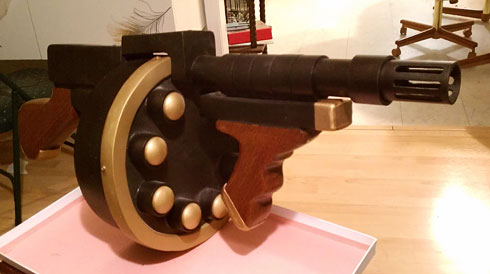 A little too close for comfort, but I am officially finished with the Mafia Graves gun, before the start of Dragon-Con.  In addition to learning about the wonders of Shell Shock, I have recently learned just how great stuff like WonderFlex is, as it's what's used as the gold trim accents to the gun's wooden components.
But yeah, the gun's officially finished, and for the most part, I am satisfied with this being my fairly novice foray into making a prop, with chemicals and pretty badass materials.  There are a few details omitted due to time and lack of foresight, but I'm not going to point any of 'em out to face scrutiny.  Maybe I'll address them another time.
So with that done, I'm ready for Dragon-Con now.  Mafia Graves costume comes out on Saturday afternoon.  La Parka's appearance is up in the air.
Continue reading "Mafia Graves gun complete. Ready for Dragon-Con now." →