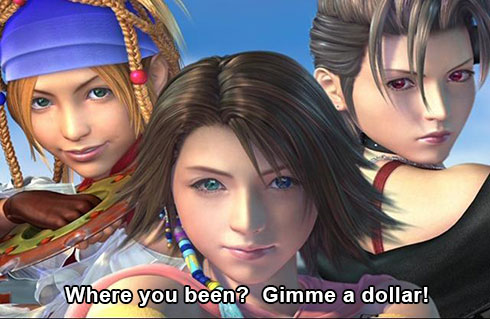 Earlier in the week, I was reading this article about the supposed slow dying of the Final Fantasy franchise, and it made me think about my own fandom in the series as I was growing up.  For the most part, I agree that the franchise as a whole is a shell of its former self, and I'm not going to pretend like I was nearly a vested fan to care so much about the writers, producers, directors, or whatever positions people held that made the old games great that when they left or moved on, yeah I guess I should have been concerned about the direction of the future games, but I didn't.
If I were asked to pinpoint the precise spot where the series began its gradual turn downhill, I would say it was from the moment that Final Fantasy X-2 was conceived.  It was at this point did the series break a two-decade old tradition of never making a direct sequel to any one particular game, despite the potential that any one of them may have had.  Not only did FFX2 break the tradition, it ended up being a pretty shitty game by all popularly reviewed standards.  This commenter seems to have nailed how I thought about it:
But FFX-2 was where it became clear to me that Final Fantasy was dead. It was an insipid, grindy package of fan-service that not only insulted fans of the classic Final Fantasy games, but also fans of the original FFX, completely undercutting the original story by bastardizing its own characters and ruining the (ostensibly) tragic sacrifice of Tidus at the end of FFX. That's when I really woke up and realized that the series I had fallen in love with was gone, turned into a shambling, undead mockery of itself.
Continue reading "Final Fantasy really is going downhill, fast" →