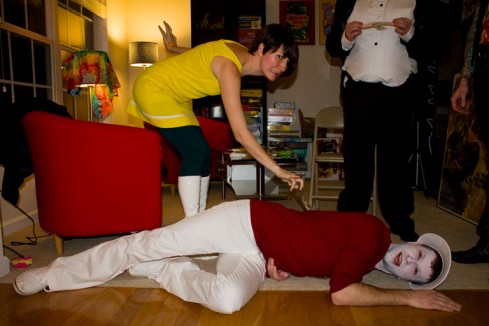 In honor of Allison's birthday, instead of an ordinary shindig, it was an evening of 1960's retro and MURDER.  A whole bunch of us partook in a groovy 60's themed Murder Mystery Dinner Party, revolving around the far out murderous occurrences that happened on the night of the party for Nutmeg Vant's safe return from being shipwrecked for several months.
In other words, a great big elaborate dorky LARP, but it was a ton of fun, and it was quite enjoyable seeing everyone get involved and put forth such great efforts into getting into their characters, and acting out our parts as best as we could.
Much to the chagrin of some, taking pictures during the evening would have been odd and out-of-character from being the greatest baseball player that ever lived, so all the goofy pictures had to wait until afterwards.
Continue reading "Photos: Allison's Rockin' 60's Murder Mystery" →