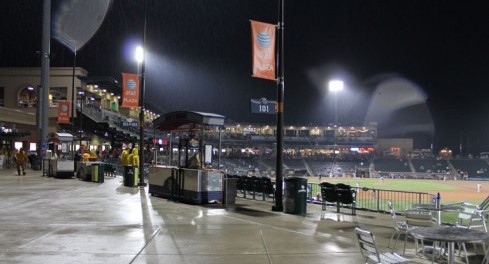 Lehigh Valley wasn't a part of the itinerary.  The last ballpark that we were going to visit was going to be in Auburn, New York, but since 2013 has been the rainiest year in the history of mankind, much like everything else has been at some point, Auburn was rained out.
But instead of tucking our tail between our legs and accepting an unexpected baseball-less evening, quick thinking on Huzzard's part opened the gates for us and immediately after finding out the cancellation in Auburn was official, we were already on the road, headed south into Pennsylvania, since we needed to be going in that direction anyway.
Apparently the Lehigh Valley IronPigs were home on this particular evening, and because of a prior rainout, they had a double-header that needed to be played, because of where they stood in the standings.  Which meant that it was just enough time for us to get down to Allentown, PA to catch an official game, at a new park that neither of us had been to before.
Continue reading "Marching through Triple-A Baseball: Lehigh Valley" →