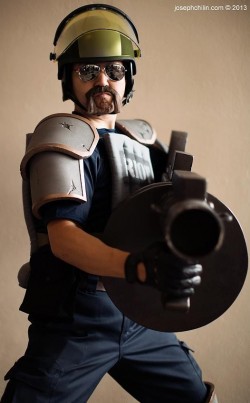 Alrighty then, Dragon*Con is a month beyond us now, and I feel like I've caught up on a lot of things in terms of writing, processing pictures, more writing, and simply getting back into the swing of things. That being said, I realized that I never followed through with my promises to myself and to my seven readers that I'd do my best to chronicle the construction of the Riot Graves gun for the costume I wore at Dragon*Con, and subsequently the other costume components.
So, unlike the LeBlanc staff process that I compartmentalized into many small posts, screw that, I'm just going to go straight into covering everything I possibly can, as detailed as I can, as it came to the construction of the Riot Graves gun, as well as the armor pieces and other doodads necessary to put together the Riot Graves costume.
Admittedly, there aren't going to be nearly as many photos as I hoped there would be, because frankly there were points during the construction where there simply wasn't time. Either I would be against the clock against chemical pot life and cure times, or after my haphazard minor league baseball trip, I was against the clock with Dragon*Con quickly approaching. I suppose inquiring minds will have to settle with my intrepid writing abilities instead at certain points.
Photo courtesy of Joseph Chi Lin Photography