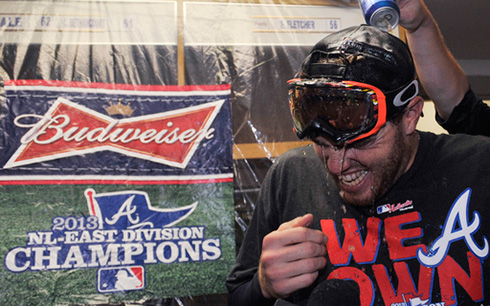 Oh noes, sports talk!  After I left Talking Chop, I don't really have any outlet to gab about baseball anymore, and when the day is over, this is still my brog and ultimately I'll write whatever I want to write about and post it, and not necessarily worry about catering to my seven readers.
In spite of my general apathy towards baseball these days, I'm still a fan of the game, and still a fan of the Braves.  When the day is over, I still want the Braves to win every single game possible, and I want the Braves to ultimately become World Series champions at least once more in the span of my life.
Over the weekend, the Braves came one step closer to fulfilling that ambition, when they mathematically clinched the National League East division.  In doing so, they're guaranteed not only a spot in the playoffs, but avoid the bullshit one-game playoff game that was marred in controversy in its inception last year, which culminated with the Braves' season coming to a close after a single game.
Continue reading "The Braves, playoffs, and what I think their chances are" →