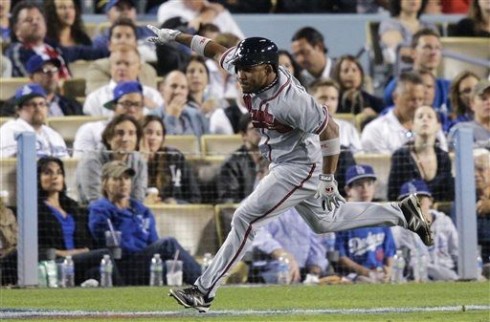 Blah blah blah apathy, etc, etc. Yeah, all of my seven readers have read it before. But I'll be damned that seeing the Braves in the playoffs again after a few years has been some of the most tension and excitement-filled baseball I've watched in quite some time, and I have to admit to feeling somewhat invigorated by it, in spite of the unfortunate way the season came to a close last night.
Ultimately, I'm not surprised that the Braves lost the series, because my educated guess was that they simply didn't have the pitching to hang with the Dodgers, or any other World Series contender, but it didn't meant that I wasn't going to root for them regardless. And it doesn't make that feeling of exhausted and draining defeat suck any less when it did happen, because in the end, that's not what I wanted from my team. I wanted them to win the whole fucking shebang, and not get bounced in the first round yet again.
But it's how it all transpired that I felt like writing about, because it defied all logic and convention, and as far as making educated guesses go, was not how it was supposed to happen. And like all high-tension critical games go, it was of course, the emotional rollercoaster that makes victory sweeter for those on the winning side, and defeat that much more painful for those on the losing side.