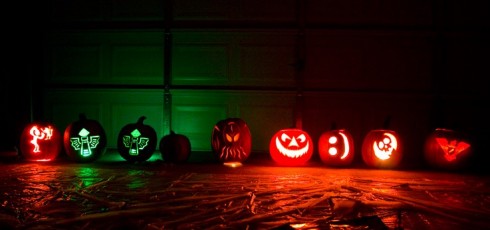 I'm the kind of person who believes in the importance of having traditions and annual occurrences.  Without them, sometimes there aren't always things to look forward to, and sometimes it's just nice to know that there are going to be times when you know you're going be in good company and have a good time.
Pumpkin carving at Stu and Allison's is one of those traditions that I look forward to every year, and every year, I like to put a little bit of effort into carving out something unique and not necessarily easy.  This year, I decided to parlay my fandom of LoL into my pumpkin and carve out the most important things in the world – wards.  And since I'm apparently a try-hard overachiever, I decided to do two wards, so it didn't seem like I was just doing it to say I placed one.
The green lights are LED lights and not actual flame, because I think burning copper or mercury or whatever it takes to generate green flame would have been somewhat of a hazard, for just pumpkin carving.  Maybe another year.
Anyway, I took a few pictures, and here they are for us to all admire the creativity and an enjoyable annual tradition.