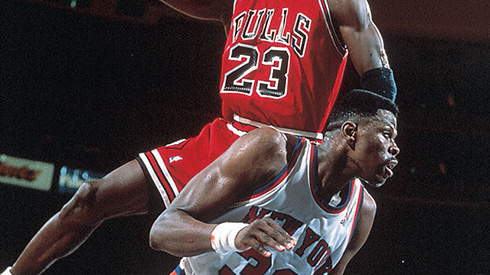 I'm reading this article where Michael Jordan is asked if he can name the greatest dunk of his career. Keep in mind that in spite of the two fake retirements, Michael Jordan played in over 1,000 games over 13 NBA seasons, which is the equivalent of 41,000 minutes or 683 hours and is arguably the most prolific scorer in his generation. That's a whole lot of basketball played, a massive number of points scored, and most definitely a whole lot of dunks thrown down. You'd have to think ol' MJ would have to stop and think for a moment about what his greatest dunk was.
Nope. Apparently, MJ has thought about it a lot throughout his life, so he has an answer prepared for when there is any time people want to know what he thinks his greatest dunk was.
He zeroes right back to 1991 in the Eastern Conference finals or semi-finals, where it was the Bulls and Knicks, and declares this particular dunk, the greatest dunk in his entire career.
The dunk was on Patrick Ewing, who has never been a stranger to the concept of getting dunked on, but the bottom line is that throughout his entire basketball career, nobody has tormented him and continues to torment him like Michael Jordan does. There's not even appropriate words to describe it; Patrick Ewing is Michael Jordan's bitch; Michael Jordan owns Patrick Ewing.
The subject is a serious question; has there ever been a case of one guy owning another guy as long as Jordan has owned Ewing?
Continue reading "Has there ever been a story of such eternal ownage worse than Michael Jordan over Patrick Ewing?" →