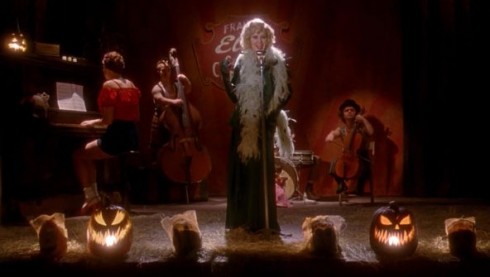 Quite often, I'll develop these mock crushes on the most random girls seen in media.  And more often, I'll ride them ironically, because I know it makes people roll their eyes, or there's a sense of amusement in it for me.  Like for example Taylor Swift; she's a beautiful young woman, who's undoubtedly easy on the eyes, and I like to pretend like I enjoy her poppy music, because it makes every girl I know roll their eyes and chastise me for being such a basic guy.
But I don't really care about Taylor Swift.  Or the cute brunette on the AT&T commercials that plays "Lily."  Or Autumn Reeser, Alexandra Breckenridge or Emma Roberts.  Sure, they're all aesthetically pleasing to me, but when the day is over, I don't really care about any of them.
Jessica Lange, on the other hand, she is the actress that I love more than anything.  Like seriously, it's hard to describe the admiration and love for her I have as a performer.  I'm enjoying American Horror Story: Freak Show as much as any other AHS fan should, but there was actually a moment in the earlier episodes where I voiced my displeasure that there frankly wasn't enough Jessica Lange being shown to that point.