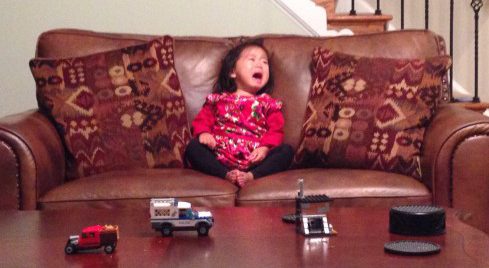 The following is a spatter of random thoughts that have gone through my head throughout the course of the holiday. I may or may not attempt to chronologically sort them when I'm done, as I'm pecking this out on my busted iPad.
The above picture is my wailing niece. I wanted to have some sort of visual to accompany this post.
This trip is the first time that I've brought my own car into the Commonwealth of Virginia in quite some time. The last time I drove my own car on my old stomping grounds was when I still had my old Nissan and I still felt it had the legs to make the trips from Atlanta to NOVA. Part of it is refreshing and fun to drive my own car on old familiar roads, but another part is apathetic and piteous of the residents of Virginia, whom have apparently been beaten into submission of driving like sissies in fear of the overzealous ticketing and fine system in place here. Safety is one thing, but the legions of people camping the left, passing lanes, going the approximate speed limit are bigger hazards to other motorists than the occasional tryhard going 88 mph, I would hypothesize.