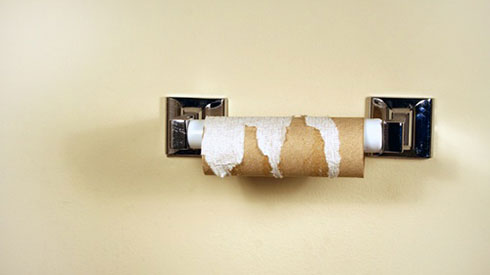 When I got to work, I noticed that the trash can around my desk had no bag inside of it when I was about to toss some garbage into it.  I looked around, and it turned out that nobody's trash cans had any bags inside any of them.  I was perplexed by this.
It turns out that the building in which my office is located in has adopted the ever-clichéd "let's become greener" approach that so many individuals and conglomerate entities attempt on a regular basis.  The recent passing of the latest Earth Day seemed like a convenient date in which to launch this initiative, and for all intents and purposes is effective on a permanent basis.
That's fine with me, as I do not see any objection to trying to be somewhat more green and conservative with waste.  I don't care for the fact that I'm not supposed to have leisurely use of my waste basket for empty coffee cups and any other trash that I would normally have tossed in there, but I can play by the rules, if everyone else is willing to.  It is a little obnoxious, but it's certainly not the end of the world.