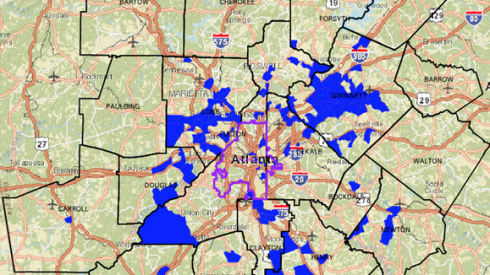 Sometimes when I feel like I have nothing to motivate me to write things, all I have to do is open up the virtual newspapers, and the city will provide.  Typically, I look for one thing that gets the synapses in the head firing for words, but sometimes, there are days like this where there's so much bullshit and rhetoric to want to call out that I end up with more than one.
Firstly: laughably inaccurate map of "racially diverse" areas throughout the Metropolitan Atlanta area.  (Bizjournals)
I won't specify which, but I live in one of these blue-shaded areas.  According to the article, the blue-shaded areas signify that "no one race or ethnicity comprises more than 50% of the population."  All I have to do is drive down my street, and drive past the nearby* school and go to the nearby* grocery store to know that this is irrevocably false.