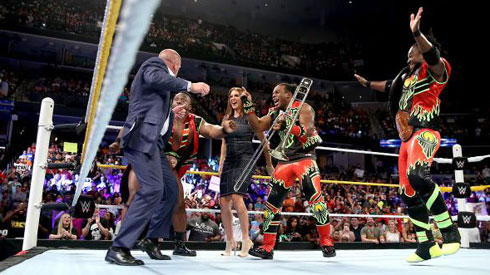 I've mentioned numerous times that I pretty much glaze over wrestling these days.  I still enjoy it, and I'm still a fan of it, but the fact of the matter is that I really loathe how RAW is presented.  Full of commercial breaks, always in the middle of matches, far too many matches that are always pushing storylines and not showcasing much actual wrestling, and then more commercials when they aren't plugging the next pay-per-view or the WWE Network in general.
I've gotten watching RAW on DVR to a science; for the most part, I can knock out the three-hour long program in probably 90 minutes or less, seeing as how an hour alone is pretty much lost to commercials.  But really, I've learned that pushing the 30-seconds ahead button to the equivalent of 4:30-5:30 minutes pretty much nails every commercial break, and that any Sheamus or Randy Orton match is usually around eight total minutes, and a Bray Wyatt diatribe is usually about 6-8 minutes.
Needless to say, I fast forward a lot of matches, and the biggest rub from me as a viewer, is if I stop and watch a particular wrestler's segment.