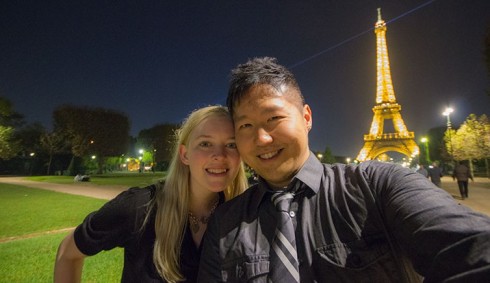 After Brussels, we took a train down to Paris, France, where the mythical girlfriend and I would spend a few days doing a boatload of touristy things, eating all of the food and drinking all of the wine.
Not that it was necessarily a bad thing, but if there was one city that genuinely felt, not really that European, I would have to say that would be Paris. Perhaps it's on account of just how tourist-heavy Paris is in general, but at least where we were staying, right in the heart of the city, it felt almost like New York City. Lots of cars, honking horns, road ragers, large-scale branded department stores and popular international brand stores adorned Rue de Rivoli, which we were right off of, and a Metro stop was almost always within eyesight, to duck into, and take whatever train to whatever destination at the drop of a hat.
Sure, the vast majority of overheard conversations and speech are in French, but just about everyone in Paris speaks English, extremely well, and I can't recall a single time in which I felt incapable of being able to communicate with someone if necessary. International immersion is something that I kind felt like I was seeking out, and I don't necessarily think I found it in Paris; but considering the polar opposite of what I experienced in Berlin, I'm wondering if it really is a bad thing.