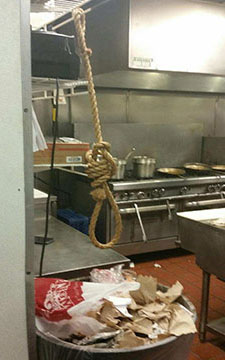 Long story short: waitress at crappy Atlanta Mexican restaurant addresses concerns over the presence of a noose hanging in the kitchen, ultimately gets fired for complaining.
I love the choice of words used in the CBS article
what appears to be a noose
Uh, make no mistake, that's a noose, no matter what angle, direction or way you look at it. I don't think it can be mistaken for a pulley or a windsor knot or some sort of special rope tying method used to unearth a tree stump or something. It's a noose, specifically used to hang people – to death. Snap their neck, asphyxiation, doesn't matter.