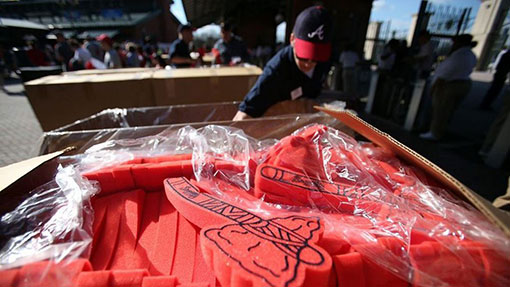 Impetus: Days before the official first-ever Opening Day at ScumTrust Park, where Atlanta traffic will be put to the ultimate test of futility, Interstate 75 is temporarily crippled when a truck carrying boxes of Atlanta Braves foam tomahawks, spills some of its contents onto the highway, forcing closure of two lanes in an extremely congested section the highway
Oh, I can feel the excitement in the air.  The AJC, Atlanta Magazine, WSB, any and every outlet in Atlanta, trying to drum up interest in the impending grand opening of ScumTrust Park.  Trying their best to accentuate the newness of the park, all the things around the ballpark, and doing their best to hide the fact that the traffic will be Snowpocalypse bad, and nothing around the ballpark is actually open.  Not to mention the Braves, who started the season on the road are 1-6 at the time I'm writing this, and are the worst team in the National League and tied for the worst team in the Majors.
Yup, didn't see any of this coming.
But one thing I didn't expect to see, but am not the least bit surprised, because "Braves" and "fucking up" seem to go together these days like peas and carrots, was like, a soft opening of shitty traffic, when some boxes of foam tomahawks fell onto I-75 and shut down two lanes in literally the worst possible spot where I-75 and I-285 intersect.
Sure, it was mostly harmless and no foam tomahawk is remotely capable of physically damaging any motorists' vehicles, but it still provided a nuisance to anyone on the road, and is a nice reminder of the shitshow that the Cobb Braves and their corruption-fueled new ballpark are all about.