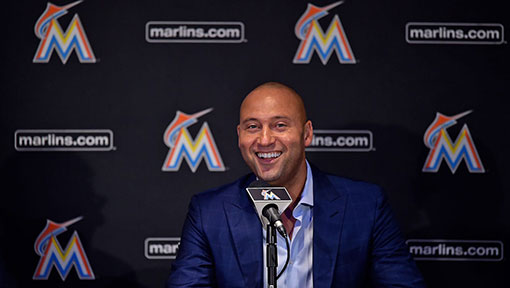 Impetus: Group which includes Derek Jeter has reached agreement to purchase the Miami Marlins for $1.3 billion dollars
Granted, this doesn't mean anything yet because nothing in Major League Baseball is done at a reasonable amount of time, and there will need to be a laundry list of approvals and votes and other time-sucking tasks before anything can be made official.  But given the two options of keeping the Marlins in the hands of Jeffrey Loria, one of the most loathed personalities in baseball, or transferring them to for all intents and purposes Derek Jeter, one of the most beloved and revered players in the modern era, I think it's a safe bet that Yeah Jeets is going to end up owner of the Marlins fairly soon.
I feel like I shouldn't forget to mention that among the $1.3 billion dollar group is former Florida governor Jeb Bush, who is notably a member of the Bush family which included once-unpopular amongst the left former President George W. Bush, because he is a notable name, despite the fact that I'm fairly ambivalent when it comes to politics.  Jeb's pretty well synonymous with failure and coming up short in his own right, but if there was ever anyone who has made his entire living of lifting the inadequate and carrying scrubs to victory, it would be Derek Jeter.
Ultimately, when Yeah Jeets ends up taking over the Marlins; the media can try to downplay his role in the group all they want, everyone knows that he's the only one remotely qualified to make any sort of actual baseball decisions, it will be interesting to see what kind of owner he actually ends up becoming. 
Continue reading "Derek Jeter would make an interesting owner" →