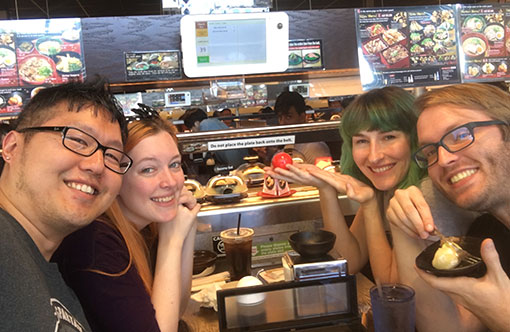 It's not often that I will point out a single business on my brog that nobody can read, but it's not often that I come across restaurants that bring me such enjoyment and hope for future visits.
KULA is supposedly Atlanta's first ever conveyor belt sushi joint, and I had been looking forward to this place as soon as it was announced to be coming to the area.  Since I'd never been to Japan, I can't say that I've ever had conveyor belt sushi before in its native land, but I have had it before a long, long time ago when I was out visiting Seattle.  I really loved it then, so it wasn't a surprise that I would enjoy it in my own home city.
Needless to say, after my first visit, I'm completely smitten by the place, and I'm already looking forward to my next trip.  It's a place that is a fun atmosphere, the quality of the sushi is pretty good, and all that shit is served to you on conveyor belts from the convenience of your own table. 
It's dangerous in the sense that it's very easy to lose track of just how much you're eating, but at the end of the meal, my company and I demolished 39 small plates of sushi and rang up a little over $100.  We cleared them pretty furiously at the start, but I think it's safe to say that everyone was well full by meal's end, and honestly, at like $25~ a head for a good sushi meal, it's not out of the ordinary.
Needless to say, this is a place that easily lifted my spirits and made me extremely pleased.  I know that I will definitely be back in the future, and now that I've been there and experienced the joy myself and don't feel the need to keep to keep quiet about the place, I implore everyone in the area try this place out.  I know that this is going to be a definite go-to option for friends and visitors alike from now on.