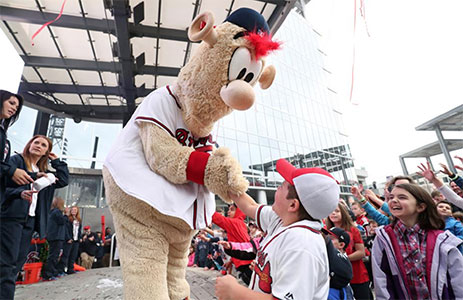 So, to recap what kind of off-season it's been for the Braves between the 2017 and 2018 seasons:
Needless to say, it's been a pretty typical crappy offseason for the Braves this year.  It's hard to say that things could possibly get any worse, but whenever anyone decides to tempt fate by saying that things couldn't get any worse, inevitably they just have to.
Introducing Blooper, the new mascot of the Atlanta Braves.  What is Blooper?  Nobody really knows.  Apparently, he came from the "Character Builder 3000" and is a pretty good metaphor for the organization itself: uncreative, stagnant and nowhere remotely near innovative.
All anyone does know is that Blooper is like a Caucasian, less fat imitation of the Phillie Phanatic, of the division rival Philadelphia Phillies, which is extremely sad that the Braves are basically copying the Phillies.  Aside from when the Phillies won the World Series in 2008, nobody should want to copy the Phillies – they suck, their city sucks, and everything remotely associated with Philadelphia sucks.