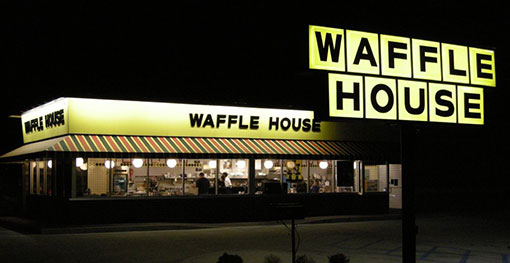 Short story shorter: man loses his shit when Waffle House doesn't have barbecue sauce, goes to jail over it
Oh, Waffle House, how I love thee.  No really, I love Waffle House.  I go at least once a month regardless of how healthy I decide to try to be for a week.  In fact, in the morning of the day that I'm writing this right now, I went to Waffle House.  I had a heaping mound of hash browns with chili and onions on it, and a side of sausage.  It was delicious.
But anyway, as much as I love Waffle House, there's no mistaking that it's a magnet for odd stories and interesting characters.  Some, not as savory as others, and in the case of this Macon Waffle House, unfortunately a volatile and very hostile customer, hell bent on getting some barbecue sauce.
Now I've been to Waffle Houses in at least five different states, and I can't say that I've ever once seen barbecue sauce available at a single one of them.  It's always ketchup, mustard, salt, pepper and Tabasco sauce, and sometimes there have been A1 and/or Heinz 57 and/or the occasional Waffle House-branded imitation steak sauce that's almost like A1 mixed with Heinz 57. 
But never barbecue sauce.