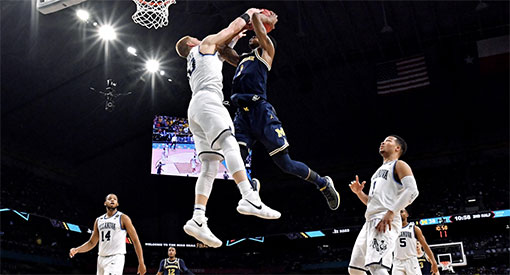 In short: Donte DiVincenzo plays the game of his life, leads Villanova to the NCAA men's basketball national championship.  Shortly afterward, an offensive tweet from seven years ago emerges amidst the celebration.
This is a perfect example of why social media is fucking garbage.  A guy can't enjoy the best night of his budding career without having to address teenage behavior from seven years ago that some fuckheads took the time to seek out in order to deliberately piss on a joyous celebration.
I'm not entirely sure why this story has set me off, it's no secret that I think social media is a cancer on society.  I guess I take objection to the idea that on a night where a guy performs legendarily and achieves success, that there are people who are such assholes that they exert actual effort in order to look for a way to throw a wet blanket on someone's well-earned celebrating.
Maybe it's because DiVincenzo's story was so epic; a second-stringer who came off the bench in the National Championship game and went completely bonkers, and shit on Michigan harder than Chris Webber calling for timeout, that who doesn't want a guy like that to be able to enjoy the night where he had the game of his life and led his team to a national championship?
Continue reading "A fine example of why social media is fucking trash" →