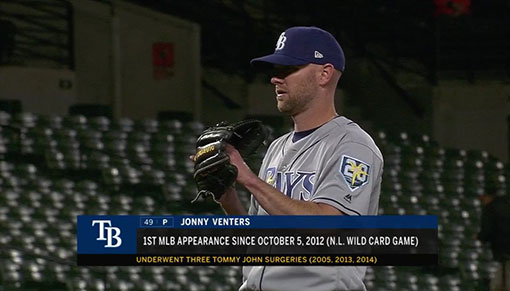 As the 2018 baseball season began to take shape, I had earmarked April 28th on the calendar.  Instead of jet-setting off to some other city to watch baseball somewhere else, or catching a Braves game at still-newish Racist ScumTrust Park, it was actually a minor-league game up in Lawrenceville that had my interest: The Gwinnett Braves Strippers Stripers versus the Durham Bulls, the triple-A affiliate of the Tampa Bay Rays.
It was kind of the best option of all worlds; I'm a baseball hipster that prefers minor league baseball over the majors, I could check out the newly enshrined Stripers and possibly get a new baseball cap to add to my collection, and I could check out the future of the Braves in uber-prospect wunderkind Ronald Acuña, who laughably was held in triple-A for obvious financial and team-control purposes.
Above all else though, it was actually a guy on the other team that I was more interested in: Jonny Venters, he of the former Braves all-star relief corps with Craig Kimbrel, but with the ridiculous power sinker from the left side that I had the luxury of watching for three straight years as he made MLB look like his own personal playground whenever he took the mound.  That is, until he got hurt, blowing out his elbow not just once, not just twice, but three total times in his long and arduous journey back to baseball.
Now he's in the Rays organization, and at the start of the season, he was assigned to triple-A, presumably to keep warm and ready for whenever the Rays would need to get some reinforcements, he would be high up on the list.