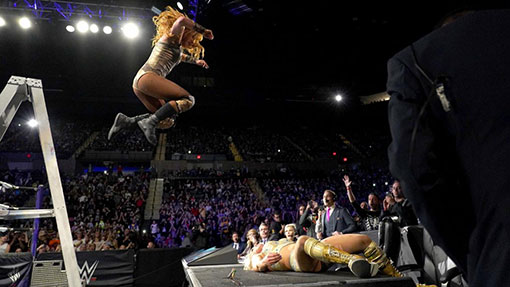 Warning: there will probably be spoilers; not that it really matters because who knows how many eons past Evolution it will take before this ever sees the light of day on the internet.
When it was announced that WWE was going to do an all-women's pay-per-view show, I had a couple of knee jerk reactions.  One was that it had the capability to be the best show of the year, due to the kid gloves that the WWE would undoubtedly have to treat a show of such a nature, and two, that it was a show that could not absolutely afford to fail.  Failure would wreck a tremendous amount of work and equity that the women superstars have put forth to building their brand, and would send things back in time at least a decade.
Fortunately, with the level of talent and the volume of it now present in the WWE, it didn't seem like failure seemed very likely, especially since the WWE is known to be capable of putting a good show together when they actually give a shit about it.
To no real surprise, Evolution was an outstanding show that I feel lived up to the hype, and truly delivered on what the primary goal of the show was supposed to be: this is women's professional wrestling.  Sure, there were some booking choices that I probably wouldn't have made as an armchair booker, but when the show had ended, I can confidently say that the good of the show far outweighed the negatives.
Even some of the matches on the undercard that I didn't really expect to be that great were better than expected, as if viewers could feel the sheer will and empowerment of the superstars, or the WWE actually let a lot of these women unleash a little bit more from their arsenals than they normally would be allowed to on television.