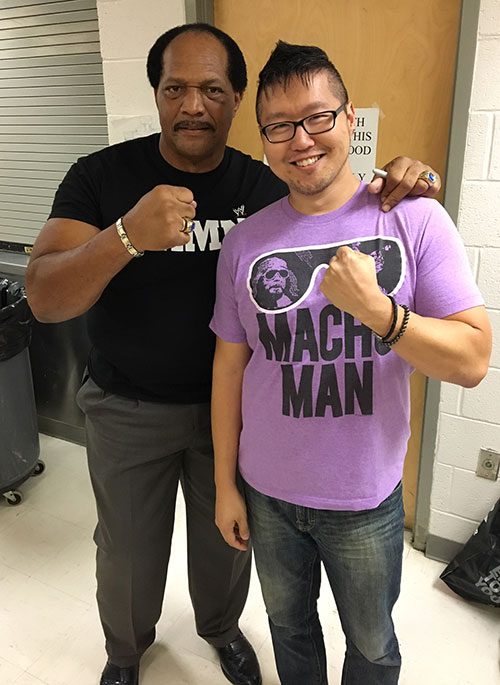 I recently went to an indy wrestling show out in the sticks of Virginia.  Waynesboro, to be exact.  This was actually the impetus for a trip I made in order to spend some time with my family, since I frankly don't really spend nearly enough time with them.
The decision to go to this show was really quite an easy one, because when it first came onto my radar, Juventud Guerrera was listed to be on the card, among a pretty star-studded guest list, especially for an indy show as this one was; guys like Sting, Lex Luger, Vader, Ron Simmons, and the Rock 'n Roll Express were also slated to be at this show.
But as legendary as some of those guys are, I have this ironic love for the weird, and the jobbers, and the guys that don't get nearly the credit they deserve, like Juventud Guerrera.  Plus, I really wanted a Juvi mask to essentially complete my collection of luchador masks on my shelf, since the Juice is somehow considered "too old" in Mexico itself, to have his masks for sale on the streets of la Playa del Carmen. Without question, Juvi was really the only reason that I wanted to go to this show at all.
So plans were made, flights were purchased, tickets were acquired, and I was on my way back to Virginia for a long weekend of family, friends and Juvi Juice.  I was looking forward to it greatly.
And then as the show neared, I went to the promotion's website to refresh my memory of what else was in store; and noticed that Juventud's profile was no longer a part of the promotional banner.  To make matters worse, all mention of Juvi was gone from the site.  My friend messaged them on Facebook, but because they're a yokel backwater promotion, they never responded, but all signs were pointing to the idea that Juventud was no longer going to be a part of it.
"Card subject to change" is one of the bigger tropes of the business, and because professional wrestling is full of flakes and bums, it's the thing said to easily Mentos out of just about any sort of card changing, like Juventud Guerrera not being a part of it.  Unfortunately for those of us outside of the business, the real world doesn't work as conveniently as the scripted one inside of it.  I still had plane tickets and vacation time punched out at work.  Juvi or no Juvi, I was still going to be going to this show, disappointed as hell that I wouldn't get to meet the Juice and pick up la maskara for the colleccíon.
Oh yeah and Vader died, so that was another blow to the card that was going to be hard to cover up.
Continue reading "Waynesboro, Virginia, the land where professional wrestling stood still" →