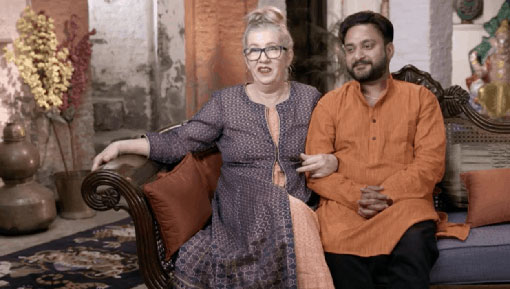 Just finished up watching 90 Day Fiance: The Other Way, on the greatest network in the history of television, TLC, and I must say that TLC did well putting together yet another classic train wreck that I so very thoroughly enjoyed.  Just when I was beginning to think that the classic 90DF formula was getting a little stale, considering how formulaic the show had become, with a woman from South America, a woman from the Pacific Islands, one guy with deeply conflicting beliefs than the American girl's family, the couple with the massive age difference, and then the one layup couple, that usually had a religious crutch to stabilize them throughout the show, TLC flips the script and jettisons a bunch of Americans to other countries for some fresh perspective and cringey Americans being Americans behavior.
Anyway, kudos to TLC for breathing some new life into the series.  Not that it would've stopped me from watching in the first place, and at the time I'm writing this, I'd already seen a preview for 90DF-Prime, which is supposedly going to be premiering soon, which gives me little time to enjoy the aftermath of The Other Way before we embark in another season of regular 90DF.
Regardless, let's get to the point of this entire post, which is to do a power ranking of the couples of The Other Way.  And when I say "power," I really mean just how terrible of human beings they are.  And for the sake of simplicity, instead of ranking them as individuals, I'm just going to rank them by the worst member of each couple, because when the day is over, as long as the cameras are rolling, the couples always stick together like glue no matter what.
#6 Deavan & Jihoon – nothing was more telling about how low-maintenance and lacking in drama compared to their counterparts were, than the fact that Deavan and Jihoon weren't even introduced into the show until like four episodes in.  And it's not at all that surprising, because despite how much TLC tried to make it sound like the crime of the century, Jihoon's checkered past of buying and re-selling cell phones in Seoul was pretty small.  Frankly, their arc was most anchored by the fact that Deavan's previous child was a demon, and the atypical judgey Korean parents that really were uncomfortable with the fact that their son was marrying a train wreck of an American girl.
Neither were particularly memorable.  Deavan used to be kind of an Instagram camwhore, and Jihoon was more or less an underachiever in terms of Korean culture.  Ironically, Deavan was the one with more grown-up priorities, and Jihoon was just kind of a horny pussyhound, but when the day was over, neither were particularly memorable; except for the horrifically stereotypical Asian music played by the show whenever the perspective shifted back to them.
Continue reading "90 Day Fiance: The Other Way power rankings" →