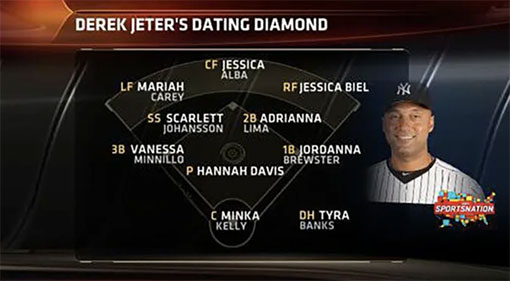 Not really news: Derek Jeter is inducted into the Baseball Hall of Fame
Unfortunately news: Derek Jeter is inducted into the Baseball Hall of Fame, but is denied the honor of unanimous induction by one vote
A year ago, when Mariano Rivera was inducted into the Baseball Hall of Fame, as the first man in history to get a 100% unanimous induction, I figured the doors had been blown off, and that we were going to start seeing more guys getting in unanimously.
Prior to Rivera, such a distinction was basically a pipe dream, and throughout the years, fans have witnessed year after year, legend after legend, fail to garner that hallowed 100% vote, no matter who they were.  Cal Ripken, Jr.  Tony Gwynn. Ken Griffey, Jr. Greg Maddux.  These were all guys that were no-brainer locks to make the Hall of Fame, and I have to ask why if they're such no-brainers, why none of them ever got to 100% unanimous?
Even guys like Chipper Jones, Randy Johnson, and Pedro Martinez, they were champions, pulled in tons of hardware, put up gaudy career stats; everyone knew they were going to get into the Hall of Fame in their first years of eligibility, but why couldn't any of these guys get a unanimous selection?
I love Mo, as a pitcher and as a human being, but it's no secret that the BBWAA hasn't been kind to relief pitchers historically.  In my opinion, Rivera was definitely worthy of a first-ballot induction, but I'm admittedly surprised that he was the first guy to ever get the 100% unanimous.
Was it because he was such a class-act and a known humanitarian?  Just about every baseball fan knew as fierce of a competitor on the field he was, he was as much of a humble and gracious human being off of it.  But that being said, so were guys like Ripken and Gwynn.
Regardless, with Rivera having broken the mold, I figured that there were still a just a few guys left out there that had the chance to also reach the promised land of 100%, with the first one most definitely being Derek Jeter.
Continue reading "The annual Hall of Fame of bullshit spectacle" →