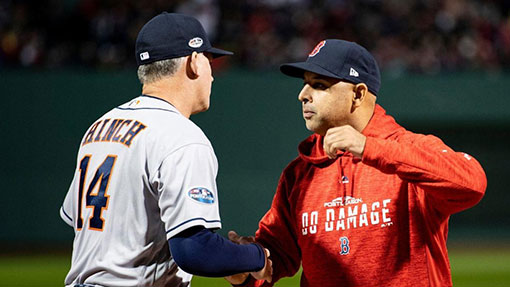 This is what I said last year when then-Astros manager AJ Hinch was fired for his role in the notorious trash can banging cheating scandal:
They're firings of nothing but symbolic scapegoating, and when the day is over, both (former GM Jeff Luhnow) of these guys will be hired by some other MLB team approximately 365 days from now.
And just like that, with his suspension lifted, AJ Hinch has immediately been picked up by the Detroit Tigers to become their next manager.  One of the other guys involved in the scandal, Alex Cora, fired by the Boston Red Sox shortly after Hinch's dismissal, is already back in talks with the Red Sox to come back and help cheat manage.  I wouldn't be the least bit surprised to hear news of someone reaching out to Carlos Beltran in the near future either.
Because like many things in the world these days, Major League Baseball lacks a moral compass.  If there were one, both guys would be blacklisted for life for compromising the integrity of the game.  But since baseball is a dog-eat-dog business where wins equals profits, teams are more than willing to turn the other cheek when it comes to indiscretions as long as someone can help contribute to more wins, and this is where we stand.
Ultimately, when the day is over, I couldn't possibly give any shits fathomable about these developments.  It's just amusing to me how predictable Major League Baseball can be sometimes, and in spite of the high and mighty act they pulled in dropping the weakest hammer down on the Astros and all involved parties, barely anything was punished, a bunch of rich baseball people got year-long vacations, and most will have jobs waiting for them.  The Astros were a win away from making it to the World Series, and frankly it would've been a gigantic middle finger to MLB had the Astros won it all when they were supposed to be being punished.
Most importantly though, I get to boast about how I'm right about something, because lord knows that shit doesn't happen too very often.