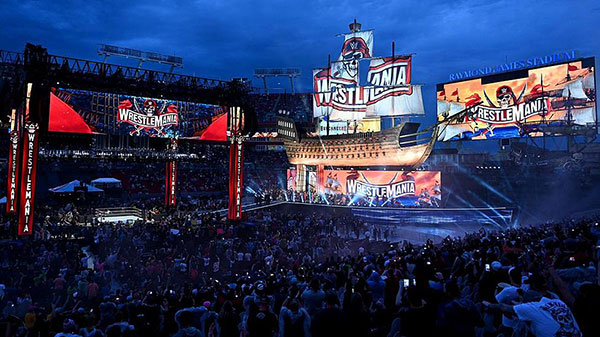 It occurred to me that in spite of how much I like sports like baseball, college football and basketball, or any other sport that I tend to get into for various spurts of time, when the day was over, and I really had to pick one thing to really stay interested in giving my very limited time these days, what wins out in the end is professional wrestling, the so-called fake sport.
I mean it's really no surprise, considering my interest in wrestling precedes every single sports interest I've ever had in my life, so I'm literally falling back all the way to my childhood interest when there's an overabundance of options to be interested in.
Anyway, so this past week was for lack of a better term, Wrestlemania Week.  Both NXT and the main roster broke up TakeOver and Wrestlemania into two-night affairs apiece, and to be perfectly honest, I really liked it in this format, and kind of hope it remains as such in the future, and not just a pandemic thing.  I enjoyed the fact that every single evening was a 2-3 hour event, and unlike 'Manias in the past, wasn't an exhausting five hour show to where I'm dog tired by the time the Brock Lesnar match at the end is over.  I literally had time to slap on a paint of coat in my second daughter's nursery after night 1 of TakeOver went off the air before going to bed.
By breaking up the shows over multiple nights, I could build anticipation for matches on each of the nights, and I didn't feel tired or burned out from watching any one show too long, and it actually helped me remain engaged and entertained.
However, before I get into the meat of this post and talk about my favorite matches of the week, I have to say that I was one part happy to see a raucous live sellout crowd at Raymond James for Wrestlemania, because fans really are one of the things that have been truly missing throughout the last year, and I know AEW and NXT have been running small crowds regularly, but seeing a packed house, made it feel like for the first time, something back to normal.
But on the other hand, the other part of me was absolutely mortified at the fact that there were 25,000 people sold out two nights straight in Tampa Bay, and just days prior in Dallas, were about 40,000 people packed into a ballpark for the Texas Rangers' home opener.  The mere thought of these kinds of gatherings when coronavirus is very much still a thing makes my skin crawl at the sheer ignorance and selfishness being exhibited by all the people going to these things, and turning these gatherings into what will probably become super-spreader events.
I know people miss and desire the feeling of normalcy by going to major events like home openers and Wrestlemanias, but I'll be damned if I go to anything expected to be packed houses, for at least, the rest of my life, if not another two years, without feeling scurred and/or paranoid the whole time.
But that's just me.  Save for the awkward scariness of seeing tens of thousands of fans gathering in a venue again for the first time in over a year, Wrestlemania week was full of some fantastic work; and these were my favorites.