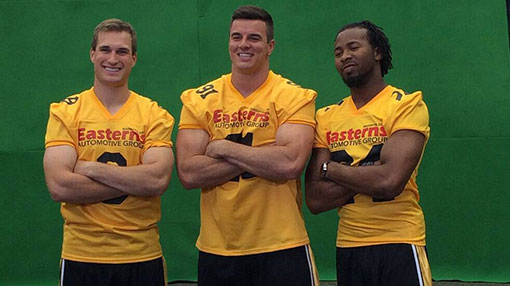 A while back, I used to have the attitude that agreed with the notion that college athletes shouldn't be getting paid to apply their talents under the banners of their respective schools, and that the education that they receive, should they actually choose to accept them, was compensation more than adequate in the tradeoff.
Things change though, and for every Cardale Jones that flaunts his hired gun status that gives no shits about a college education, are still countless other student athletes who are stalwarts at the college level, but the harsh reality is that they have very little to no actual future in professional ranks.  It's those guys that that have helped change my tune when it comes to compensation for student athletes, because college is most likely going to be the pinnacle of their athletic careers, and it would be great if they could cash in on a modicum of it before their window of opportunity to earn, is shut.
So the news of the NCAA now allowing student athletes to start making money on their likenesses, endorsements and social media accounts is definitely a positive step in the right direction at a knee-jerk reaction, but at the same time, there's a lot of gray area and things that could potentially go in an unsavory direction, that spurred this train of thought post.
Like I said, my knee-jerk reaction is one of positivity, and general happiness for all student-athletes who will now start to be able to make some money off of their sweat, efforts and contributions.  They won't be explicitly being paid by their schools, which is still something that I agree should not be allowed, but it'll be nice to know that an innocuous autograph session or them showing up to a local car dealership or restaurant to make an appearance can get them some punishment-free cash, just because they play some sport for their school.
The one thing I like the most from this is that I think it will help curb the culture of one-and-dones, in mostly basketball and football.  Fringe prospects that aren't Zion Williamson or Trevor Lawrence-good might actually stick around for another year or two, and now have options to choose from whether or not it's worth becoming a benchwarmer in the pros versus remaining a god on campus and cleaning up on endorsements and other profitable endeavors.
College-good athletes will be more likely to stick around four years, and not only will their teams benefit from having physically and mentally matured juniors and seniors on their squads, the ones that actually take life seriously might actually get educations and graduate legitimately, instead of a parade of paper African-American studies majors trying to survive illiterately in the world after college.
The benefit to this is that fringe contenders' windows of contention might remain open a little bit longer, because key members of contending teams might stick around longer if they're capable of earning while in college, instead of bolting for any Euroleague hoops or XFL or CFL if they can't make it to the bigs directly. 
And it goes both ways when it comes to the power schools in the nation, because obviously schools with preexisting relationships with major companies will still get the lion's share of top prospects, but if programs start to get a little crowded with upperclassmen staying in school, it's going to funnel prospects or force incumbents into the transfer portal to go to other schools, which may or may not raise the amount of parity throughout college athletics.
But like I said, it's not a perfect solution, and for all the good that's possible, there's still a lot of room for negative things to be or remain the case; like the aforementioned obvious aspect that the major schools with preexisting relationships with companies like Nike, UnderArmour and other relationships are still going to get the best prospects, due to their now-available opportunities for endorsements, so it will still probably feel like the rich will remain getting richer, while all the other schools will feel like they're fighting over scraps.
And foolishly counterpointing one of my positives, programs like Duke will be tailor-made to probably do well under this new era of college sports, because as much as everyone loathes Duke, Duke is great at producing college talent.  Sure, a lot of it has to do with Coach K's brainwashing, and he is allegedly on his way out, but the fact of the matter is that Duke rosters historically have been loaded with well-built teams that dominate the college level, and keeping these rosters mostly together for 3-4 years at a time might result in some return to prominence by the Dukes and other programs that operate in similar manners.
Finally, let us not overlook one of the more annoying outcomes of this development: the era of self-promotion and rise of obnoxious social media presences of student athletes now who are going to embark on missions to promote themselves, develop personas, brands and identities to try to monetize and make bank while they're in college now.  If I had as much time to fart around on the internet and sports websites as I once did, I can only imagine how obnoxious things have the potential to be as college athletes across the nation will be getting up in our virtual faces trying to become famous so they can make money.
Either way, it's ultimately a step in the right direction, with both positives and negatives up in the air, and the fact that it's so new and unrefined, it'll take all of two seconds for college athletes and the inevitable wave of agents that will prey on them, to find all sorts of loopholes and gray area for things to get muddy really fast.
But man, how much must it suck to be the graduating seniors of 2020/21's NCAA athletes?  Sure Najee Harris probably was cleaning up on all sorts of under-the-table non-monetary compensation while winning a national championship for Alabama, but how salty do you think he's going to be knowing that all the freshmen coming in are going to be able to make money without needing to hide and be as secretive as he once was?