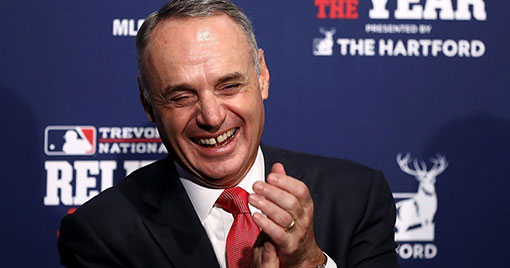 TL;DR: Job Creators Network sues Major League Baseball for $100M and demands that the 2021 All-Star Game be returned to Atlanta
Sometimes I wonder if third-parties like this get involved in scenarios like this because they actually care, or if they're just chasing the potential to get some free money in a settlement when and if an entity like MLB just doesn't feel like dealing with this bullshit and is willing to throw some money at it in order to get it out of their hair.
Obviously with a case like this it's undoubtedly going to be the former, because anyone with a brain knows that it's nigh impossible to go at a gozillion dollar company like MLB and actually expect to have a fighting chance.  Frankly, I'd love to see MLB take it on and potentially counter-sue for the inconvenience and bury a shitty-sounding organization like "Job Creators Network" into oblivion.
Normally, I wouldn't be so quick to judge an organization that sounds like it's trying to create jobs, but when I saw this blurb, I kind of felt like I knew what I needed to know to be able to determine a side I'd rather side with:
The lawsuit was filed in New York City by attorney Howard Kleinhendler, who was also involved in several failed lawsuits seeking to overturn the results of the 2020 presidential election.
So basically some baked potato-supporting brainless fucks who are picking fruitless fights for no real good reason.
The funny thing is that I normally love to see when MLB or Braves Corporate get owned, but in this particular instance, I have to stand with MLB, but at least Braves Corporate is still getting owned in the process.
Because there is a 0% chance that the All-Star game is coming back to Atlanta, and I'd like to see it remain that way; for both symbolic reasons that Georgia's Jim Crow 2.0 personally ushered in by Bubba Kemp is horrific and flagrant, and that Braves Corporate, Truist and all their crooked cronies, constituents and talking heads are humiliated, owned and denied all the money that an All-Star game would've brought to them.  Bonus also being a big super-spreader event avoiding Atlanta Smyrna, alleviating roads, businesses and traffic.
Either way, this is a story that's pathetic on all fronts, no matter what source it's read from.  It's a waste of time, money and resources for those who have to deal with it, and a perfect example of peoples' eager willingness to do it in order to gain notoriety, exposure and potentially free money if the right people just want to see it go away.