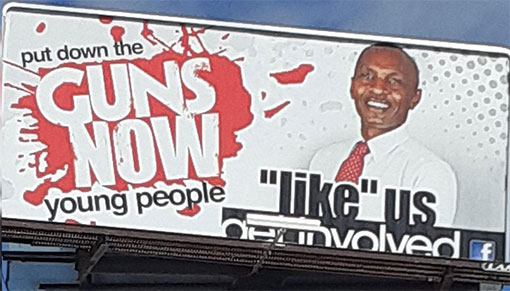 It's been a while since I last did one of these, yeah?  Mostly on account of the fact that in all the time between the last one and this one, the chance were pretty high that I simply just wasn't checking any news, local or national, because I simply did not have the time and/or capacity to do so, and potentially run into something that makes words roll off the tongue (or fingertips) to brog about in the first place.  But sure as the rain falls in Georgia summers, I check the local news, the chances are high that I'm going to see something stupid that warrants some word barf.
Like these billboards that have been hung up in a few places in Greenville, South Carolina and now making their way into Atlanta, that supposedly are trying to send a message to the youths of these areas, to put guns down and presumably stop shooting other people.
At the core of these, the message is noble, and something that I do support; reducing gun violence.  But when it comes down to branding, awareness, the execution of a billboard, there's just so much more wrong that I just can't help but clown on it.
Like, I don't know where to even start.  Do I go on about how the focal point of the message is all jacked up and could lead to misinformation, because GUNS NOW is all huge, that someone zipping by I-85 in Greenville or Atlanta, where the posted speed limits are anywhere from 55-70 mph with actual motorists usually going 80+, might not see the smaller text and just see GUNS NOW and become motivated to arm themselves?
Or that maybe in Atlanta where the gun violence is high but the education is low in the areas in which these billboards are up, the order of the messaging isn't comprehended appropriately, and the wrong people read it as "put down the young people, GUNS NOW" and then they start breaking into other peoples' cars to find guns, succeed, and then start shooting, young people.
Perhaps it's the fact that "like" is in quotation marks, as if to encourage people to tongue-in-cheek, air quotes like them on, presumably, Facebook, because there's a tiny-ass logo, but really don't.  The use of quotation marks creates more confusing to their message than clarity, and confusion usually leads to harm.
The best part about it is that there's no actual call to action on the billboard itself; I guess the closest thing is the fact that there is a Facebook logo, but really it's up to Google to find this organization for you.  To its credit, it wasn't that difficult to find a Facebook page of the same name which appears to be one and the same, but then there are all these visuals of inconsistent naming; the billboard says "Put Down the Guns Now Young People" but then there's a bigass banner where the gun is no longer plural, and as someone in marketing, all I can do is shake my head and wince at the inconsistent use of messaging, which is among the top three faux pas when it comes to any sort of establishing brand voice.
Either way, although the message is noble and one that I could get behind, the execution is just far too shoddy and ineffective at getting its point across that I'm afraid I might be more encouraged to get a GUN NOW, because seeing those words in a giant splatter of blood makes me feel like I might need to arm myself to protect myself from those vile young people.