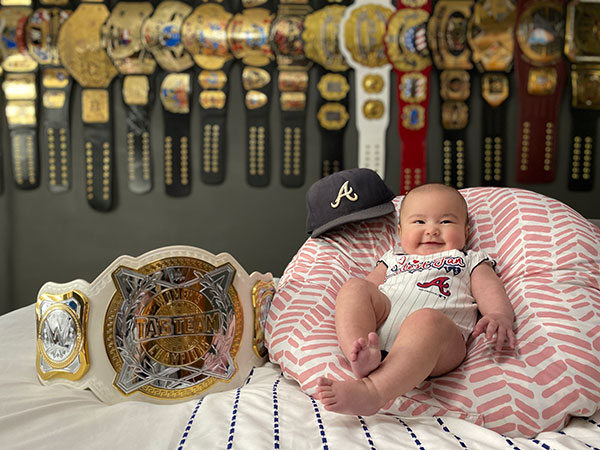 Firstly, baby luck is real, boys.  If you want to see your team win a championship, go have a kid.  I've seen it work for the Cubs.  I've seen it work with the Nationals.  Both those teams were laughing stocks not very long ago, and good friends of mine with their then-new children, got to witness the pinnacle of baseball fandom. 
Despite the fact that the Braves lost megastar Ronald Acuña, Jr. to a blown ACL, Mike Soroka blowing out his arm, and Marcell Ozuna getting suspended indefinitely for a domestic abuse incident and were sitting as low as fourth place in the division at one point, #2 was born, the Braves stopped sucking just enough to win a horrid division, and then got hot at the very right moment, and rode the momentum all the way to the top.
And now baby luck has worked for me, finally getting to witness a reality where the Atlanta Braves are World Series champions.  How can anyone not love baseball when an 88-win team that had no business making the playoffs ends up winning the whole thing?
Honestly, I never thought I'd see this in my life.  Between the Braves, Virginia Tech football, Korean national teams in, anything other than video games, I don't have a lot of world championship potential, so y'all will have to excuse me if I'm still in a little bit of disbelief at the fact that the Braves are actually champions.
I wasn't a Braves fan in 1995, when they won the World Series previously.  Growing up where I did, the team to root for was Cal Ripken, Jr. and the Baltimore Orioles, and the O's got bounced by the same Cleveland Indians who went on to lose to the Braves in that World Series, but I make no claim to that championship.  So 2021's World Series, really is for me, as it is for all Braves fans who have waited over 20 years for another championship.
Continue reading "Finally, let's talk about the World Series Champion Atlanta Braves" →