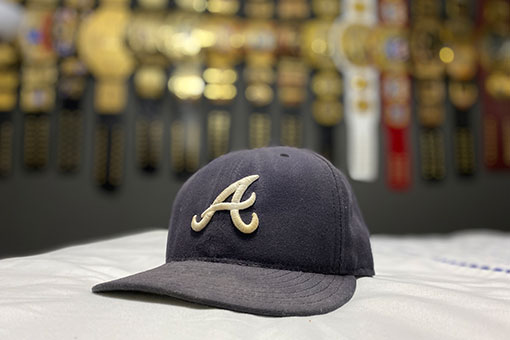 I got this cap during the tail end of the 2008 season.  The Braves lost 90 games that year and they were not a very good team.  But, I was working for Cartoon Network then, and as a Turner network, one of the perks we got were these booklets of house money that was redeemable for tickets.  And then one day, a colleague told me that they didn't work on just tickets, and could be used to purchase merchandise in Turner Field.  So I cobbled together what remaining vouchers I had left, and decided to get a new cap.
NewEra was still young at that time, as hard as it is to believe considering they've been the official baseball cap of just about everything forever now.  And my unknown-brand red and navy Braves cap was beat to death, so it seemed as good as any to get a new one if I didn't have to pay anything out of pocket.
I went with the road navy, because I already had the aforementioned two-tone, and I just really dug the all-navy.  I loved the way it fit, and I was sold on NewEra caps, and it quickly became my default cap.  It's so old, that it was before NewEra put their logos on the side of caps, and the only identifiers to the brand is all the 59Fifty markings on the inside of it.
Over the next 13 years, this cap has been to countless Braves games, MLB games, MiLB games, a World Baseball Classic game, and visited 14 of the 30 MLB ballparks.  It has been worn in 117F degree summer games, 49F spring games, and been rained on countless times, and had enough sunlight beaten into it to power a house if could absorb the solar energy.  It has never seen the Braves win on the road (except in Washington DC, where I've seen numerous Braves games against the Nationals). 
Now I could make up some story about how I vowed to never change this cap until the Braves won a World Series, but I'd be lying if I said that, but seeing as how the Braves have become world champions 13 years later, I think now would be as good time as any to explore retiring this cap, and getting a new one.  The color is faded and tired and the integrity of the fabric and brim is flimsy.  But mostly because this cap is a size 7 3/8 which fit perfectly back in 2008, but my head alarmingly is now a 7 1/2. 🙁
But in all likelihood, the new one will be another road navy, because it's classic, subtle, but just the fucking best.  However, in true fashion to myself, who can get sentimental over the littlest shit, here is a fond farewell, to a baseball cap.