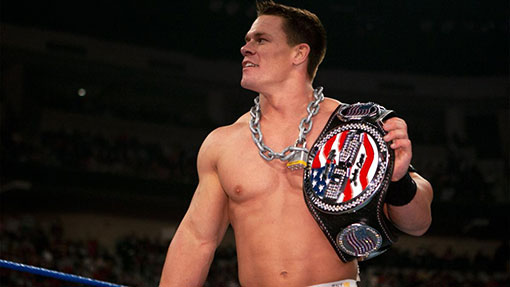 With the NXT UK Tag Team replica blet now officially on the radar and awaiting an adequate discount price away from me pulling the trigger on the one blet that I have been wanting for nearly three years, you'd think I'd be running out of blets that conceivably even want for my collection.  Sure, there are tons of blets in the independent promotions that might warrant a second look, but those would be a little too edgelord even for a snob like me.  And AEW, much like New Japan are taking their replicas a little too serious for me to even consider wanting to buy one (yet).  
I've gotten pretty much all of the old ECW and WCW blets that I ever wanted (which is basically all of them), blets to represent my interests in New Japan, Ring of Honor, as well as NXT and NXT UK, and I'm currently holding onto two blets for my daughters until they hopefully come to their senses and realize that they want their blets on their own walls one day.
So, at some point, there's got to be an end to the madness of all the blets that I could even want, right?  Especially with the one UK Tag blet that I'd been pining for basically all but already mine at this point, what could possibly come next?
Well for years, I've had friends and acquaintances think they were being clever internet comedians when they'd be telling me that I needed to get a John Cena US Spinner title blet for my collection.  They all thought they were being funny, because the Cena US Spinner was a blet that was polarizing in the sense that most everyone hated it, and I admit that I wasn't a fan of it either, originally.  But as time passed, and I occasionally actually looked at it beyond fleeting moving video of it on television, I kind of dug it.  Way more than the eventual John Cena world title he unveiled, which for this juncture in time, I still say that I wasn't a fan of the design and maintain that any blet that was once held by Jeff Hardy doesn't have much credibility in my mind, even if CM Punk did the lord's work with it before the got all high and mighty and martyred himself into oblivion.
In the years that I'd been waiting for the NXT UK Tag to release where it never happened, there were all sorts of blets that crossed my radar in that span in order to satiate my perpetual want for moar blets.  It was in this window of time that I figured that I really should try to get my hands on a Cena US spinner, but as was often the case when I decided to go for certain blets, they were already no longer manufactured.
Figures Toy Company lost the rights to make WWE blets, and those that existed on the second hand market were priced to the moon, and I know what my limits are on a blet, much less one that I want more for a joke and irony than actual want.  I'd watch eBay auctions for legitimate ones whenever they'd show up, but then they'd all always soar past what I'd be willing to pay for it, and there were tons of Pakistani knockoffs of them that I had to make sure to not get duped on.
Eventually, I realized that the Cena US Spinner was a blet that probably had a high chance of getting re-released by the WWE Shop, seeing as how I'd observed a parade of older blets getting re-released instead of the NXT UK Tag, drawing my ire endlessly.  I figured the Cena US Spinner would probably see the light of day before the NXT UK Tag in fact, but I figured it would eventually be re-released at some point, because it seemed like all old blets were headed in that path.
Which brings us to today, just days after finding out that the NXT UK Tag blet was finally being replicated, I see a banner show up, announcing the pre-orders for the replica re-release of, the John Cena US Spinner blet.  
And just like that, after boasting about how the NXT UK Tag wouldn't even be coming out of my blet money from surveys, the WWE Shop has to up and drop yet another blet that I had been casually keeping my eye out for, creating a scenario where I will eventually have to dip into my hard-earned blet money after all.
Also, I'm currently sitting at needing to mount three new blets to my wall.  The NXT UK Tag would make it four, and if and when I eventually get my Cena US Spinner, that'll make five.  Which is a pain in the ass because then I'll need to buy more wall snaps, which are only sold in packs of 25, which means I'll end up with extra snaps enough for eleven more blets afterward.
I've basically given up on saying that I'll ever be finished, because let's be real here, there will always be new blets to come out, or a change in opinion, or a killer sale, that will result in me buying just about every blet there is out there.  
Such is the life, of a blet collector.