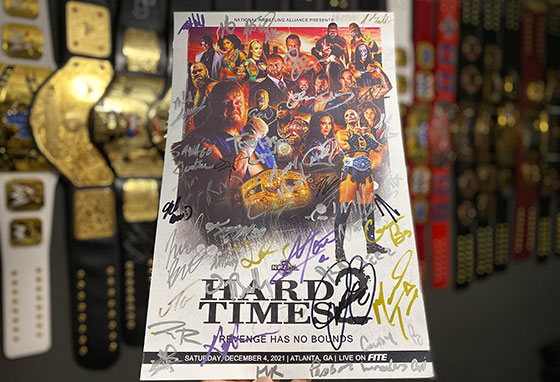 When I went out to the mailbox with one of my kids, I figured it would be more of the same junk mail.  Bullshit about mortgage insurance, solicitations for donations, a random piece of mail offering me a ridiculous amount of money for my home regardless of the fact that I would never be able to parlay that into getting something else remotely close to where I'm living now, etc.
But today, there was an unexpected tube in the box.  I figured it was something mythical wife had ordered because she's always ordering shit for the kids, but it turns out that it was addressed to me.  A return address from Florida from someone I didn't know, because it was only signed by initials.  I thought it might've been a friend of mine from Virginia whom had similar initials, and I wondered, did they move to Florida?  What did I do to deserve such a considerate friend who sends me random mail even though we hardly speak?
Turns out that it wasn't this specific friend I had in mind.  Instead, upon opening the tube, was a small 10 x 16 poster from the NWA show that I had missed out on due to the rise of omicron.  And it appeared to be autographed by, presumably all of the performers from the show.
Back in December, I had tickets to the NWA pay-per-view, Hard Times 2.  I had long wanted to go to another live wrestling event, and the card actually looked like it was going to be pretty good.  In fact, I was stoked because I learned that the NWA taped their shows from Atlanta, and I had made a point to try and go to a show, but then coronavirus happened, and those hopes were dashed.  But back to December, the doors were open once again to live NWA wrestling, and I had purchased tickets to Hard Times 2, anticipating a fun night of decent live wrestling. 
The night before the event, I got an email that stated that my tickets were cancelled and I was being issued a full refund.  I thought WTF, and DM'd and emailed the NWA's twitter account and public email address, but not long afterward, a mass email was sent out.  It turns out that due to the rise of omicron, Hard Times 2 was putting a cap on the attendance, and me being past the cutoff point of tickets that were going to be honored, was instead getting a refund again.
I was quite disappointed.  I understood the circumstances, and frankly respected the venue for making the call, but I was sad that I was going to miss out on a live show, because I was really looking forward to it.
In the email, was also a message that stated responding with mailing addresses, so that the show could send all of us a small gift of appreciation and apology.  I didn't think much of it, so I sent them my info and didn't really anything of it.
It should also be mentioned that the NWA is owned now by Billy Corgan, the same Billy Corgan who was the front man for the Smashing Pumpkins.  Turns out he's a big wrestling mark, and leapt on the opportunity to purchase the NWA when had deteriorated to basically the fifth most prominent organization in the industry.
Getting this signed poster is actually really cool as shit, and definitely softens the blow of not getting to go to the show.  There are lots of guys in the NWA that I do like, but if I had to pick the most notable talent that might have signed it, it would have to be Paola Blaze, whom I'm most familiar with as being THE Paola from 90 Day Fiancé, who somewhere on the road, parlayed her TLC fame into a professional wrestling career and now moonlights for the NWA.
Somewhere on this poster is Paola's autograph.  And as a fan of professional wrestling and 90 Day Fiancé, that's the crown jewel of this entire poster.  And I kind of have to credit Billy Corgan for keeping the lights on in the NWA to allow for this to happen, so is this where I actually have to admit that he doesn't suck, for once?
Nah.  No way this was his idea.  The guy who runs the NWA's gmail account (lol) seems to be the guy that's shadow puppeting the promotion, probably.  That guy most definitely doesn't suck.  But Billy Corgan still does.  Let's not kid ourselves.