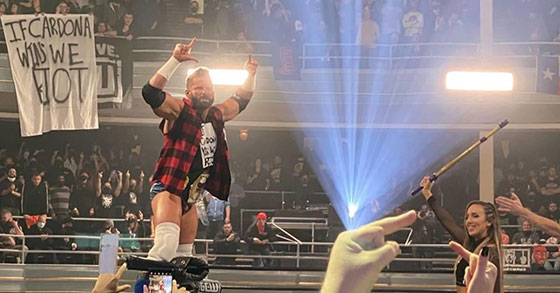 As much as I like to pretend like I'm some wrestling mark hipster, and know every single indy wrestler out there, I'm not even close.  I don't even know where half of AEW's roster originated from, and when guys like Daniel Garcia or Wheeler Yuta show up, I have no fucking clue who they are.  I went to an indy show back in November and saw names like Effy and Marti Belle and had no idea who they were, much less aware that both were title holders in other promotions.
Honestly, up until the episode of Vice's Dark Side of the Ring about Nick Gage, I had no idea what Game Changers Wrestling was.  And based on the episode, where Nick Gage basically repeatedly killed himself in all sorts of deathmatches, I frankly wasn't enthralled with GCW, and came away with an impression that they were a promotion that was determined to one-up ECW in terms of violence.
But then after Zack Ryder was fired from the WWE, and Matt Cardona eventually showed up at GCW after a masterful troll job, impersonating Jon Moxley who had been bouncing anywhere and everywhere he wanted, I began to see GCW showing up on the general internet radar of professional wrestling, beyond the exposure they got on Dark Side.  Eventually, Cardona would dethrone Nick Gage as the promotion's World title, and whether they want to admit it or not, it was off to the races for GCW.
Eventually, the actual Jon Moxley would really show up, and beat Cardona for their World title, which brings us to present time, where thanks to a lot of cross-promotion with talents from AEW, Impact, Ring of Honor and whomever else, GCW had drummed up enough exposure and attention to where a filthy casual like me was very intrigued and interested in their supposed major biggest show ever, The Wrld pay-per-view event.  The card looked intriguing, and I was genuinely interested, and excited to catch my first ever GCW show.
Continue reading "I saw my first GCW show and it was pretty good" →