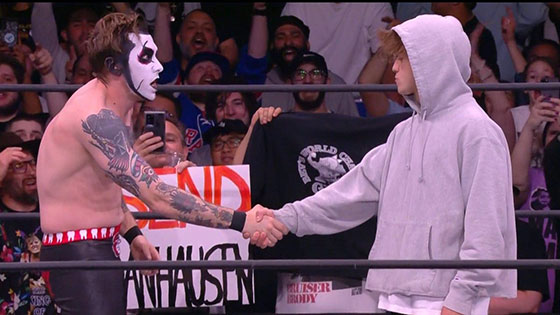 Despite the fact that I probably come off as someone who hates AEW and and think WWE can do no wrong based on how much criticism I have for AEW, I don't hate them at all.  It's just that they do so much weird shit that makes me scratch my head, and if there's anything at all about the promotion that I really don't like, it would probably be Tony Khan, because he just comes off as this privileged mark with money and means to have created his own toy promotion, and is running it wackily but under the guise that it's for the fans, and unfortunately a lot of people have gotten drunk off the Kool-aid.
In all fairness, I think WWE is pretty putrid these days, and I'm kind of the living embodiment of the popular meme that nobody hates professional wrestling more than professional wrestling fans, based on how it really does seem like I have nothing good to say.  However, I am willing to post about the shit that I do like, it's just that there's not a whole lot of it these days, unfortunately.
Anyway, mostly through scuttlebutt, I've been casually following AEW's progress through the year, and aside from purchasing Ring of Honor, they are making some impactful moves and making a lot of noise in the industry.  The AEW x NJPW Forbidden Door show they're going to have is going to be a pretty major deal for better or worse, and despite the fact that I will probably not see it seeing as how I have zero intentions of actually paying to watch a pay-per view anymore, I'll still be very interested to see how the show shakes out.
The thing is though, as much as the internet seems to think it's going to be the biggest show since the last Wrestlemania where they made up numbers to make it sound like the largest in history, there's a ceiling to just how good Forbidden Door is going to be.  It's going to be the same ceiling that hindered Double or Nothing, or pretty much any other AEW show since its inception: the sheer lack of comprehensive storytelling throughout the promotion.
This isn't to say that there isn't any storytelling at all, but rather it's the fact that AEW doesn't have much quality storytelling, save for a few exceptions where it's clear that all available attribute points are put into a single arc; usually ones involving Kenny Omega or the Young Bucks, exhibiting nepotism at its most flagrant, seeing as how they're still VPs of the company, no matter how much power Tony Khan has allegedly stripped them of.
Matt Hardy once was on record talking about how AEW doesn't have any writers, and that much is very obvious considering how paper thin and lacking in any substance the vast majority of the promotion's storylines end up being.  But it also verifies the weakness and validates the importance of quality storyline, because week after week, a promotion can't slap together these repeatedly inane 5- or 6-man team matches full of big names in an attempt to give as many members of their horrifically bloated roster tv time, and actually expect anyone to care when there's no story behind it.
Like CM Punk just won the AEW World championship from Hangman Adam Page.  How did that storyline materialize?  Punk got out of his feud with MJF and then one week after a match, he pantomimes he wants a belt.  Next thing you know he has a few face-to-face confrontations with Page, and a match is suddenly booked.  Seed planted, match had, title swapped, in less than three months.  Despite the rise of Hangman being one of the more interesting stories to have happened to the promotion, Tony Khan didn't know what the fuck to do with him after he had reached the top of the mountain.  And unfortunately for Hangman, it's his ass who has to do the job because of their lack of writing ability.
Taz's son Hook, is a perfect example of the perils of not having writers, because here's a guy that fans latched onto like gangbusters when he finally debuted, but instead of having him actually grow and make any progress in his character, or give him any meaningful storylines to embark on, AEW has paired him up with fucking Danhausen, whom I just don't really see the appeal in because I'm old, but you've got this young silent killer paired up with basically a circus clown of a character, and somewhere it's expected that Hook will actually grow from this?
To the fairness of AEW, they have demonstrated a legendary ability to open; talent debuts, seeds for stories, general ideas.  But that's about all they can do, is start page 1.  I imagine Tony Khan is the kind of guy who has a folder on his desktop with like, at any given time, no less than 58 Untitled-1 (##) with ideas for storylines and bookings, but aren't more than a paragraph.  But instead of actually hashing them out and trying to formulate some quality storylines out of them, he passes them onto the talent, tells them to start them up, and then wing it from there.  Last time I checked, professional wrestling and improv aren't always mutually exclusive, but they also aren't things that just anyone can do without experience.
Keith Lee and Swerve Strickland are good examples of guys who came in to a lot of buzz and impact for two seconds, but then absolutely jack shit was done with them since their debuts.  Worse off, they're now paired as a tag team because the roster is so bloated, and now neither will really have any room to develop as singles guys.  Toni Storm and Ruby Soho are also good examples of acquisitions who came in to big pops, but are just treading water.
The bottom line is that AEW's lack of storytelling is always going to be a hinderance, and isn't helped by the sheer volume of the roster that needs some creative direction.  But good storytelling is capable of making diamonds out of one guy, or fifty guys, if it's done well.  But seeing as how AEW has no writers, and the whole show seems to hinge on Tony Khan's visions, the promotion will always have a ceiling that they'll struggle to crack through, if they want to have any chance in the future of actually sustaining themselves in the battle to combat the WWE.