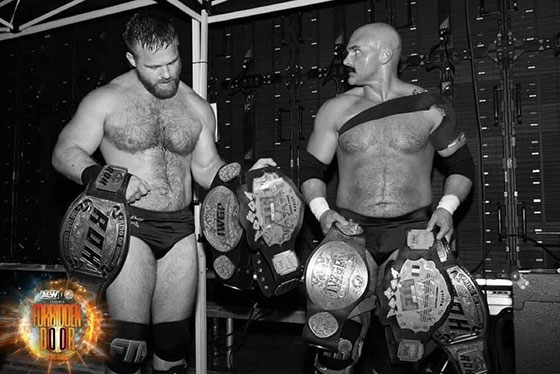 In spite of the seemingly endless parade of criticism I have for AEW, I was very interested in Forbidden Door, the alleged AEW x NJPW collaborative super show.  Obviously, I use the terminology alleged, because I feel like anyone with a pair of eyes probably might've been able to see that it was and was going to be a basically AEW show, featuring some guys who happen to wrestle for New Japan.
And when the dust settled and the show was over, I didn't have to wait twenty seconds before I exclaimed to my group chat of bros I was watching with, that the show was fairly beneath the perceived expectations, and that this was entirely an AEW show, with some NJPW loaned out to the card.
I mean, the show itself wasn't terrible.  It was an entertaining show with some good matches, some great performances, and had a lot of things that I was happy to see, like FTR continuing to collect tag titles, winning the IWGP heavyweight tag titles to add to their collection of ROH and AAA, and the return of Cesaro Claudio, which makes me happy as a fan to see a guy I've long admired, get back in the ring and shine.  Pac winning the not-intercontinental All-Atlantic championship was something I had predicted and I always like being right, and on that note I also basically predicted to a tee, the very ending to the fatal four-way between Jay White, Kazuchika Okada, Adam Cole and Hangman Adam Page.
But from what this show was billed as, built up to be, and what it should have been on paper, Forbidden Door fell way, way, way short of the expectations of everything the fans wanted to see when this ball got rolling.  Sure, there were a fuckton of injuries to AEW's roster leading up to it, and drama with NJPW involving Kota Ibushi, so there were many notable names that couldn't even be on the show.  But AEW still has a roster of 4,000 guys, and sometimes all you have to do is put some talented guys together and storyline be damned, let some motherfuckers work.
No Kenny Omega, no Kota Ibushi.  The Young Bucks were smooshed into a multi-man match, and Will Osperay was given Orange Cassidy.  And as much as I'm happy that Claudio is back to work, AEW had no shortage of guys who might've been able to step up to Zack Sabre, Jr. but they stuck to existing storylines and kept a lot of the roster tied up to where the only option they really did have was to bring in Claudio, which is also perplexing.
And not to dig up some old dirt, but I couldn't help but notice that TNT champion Scorpio Sky and TBS champion Jade Cargill were absent from the entire event.  Also Keith Lee, Swerve and Max Caster were all pre-show matches, meaning the entire primary event was completely devoid of black talent.  I mean, I got a lot of enjoyment watching the shitshow grave digging Tony Khan did to himself when Big Swole accused him of being a racist, but you see shit like this, and I can't help but think that lil' TK might want to implement a DE&I department on his team or something.
Furthermore, of all the names that were on the entire card, like two Japanese guys actually got any sort of positive rub, the whole night.  Hiroshi Goto got the pin in the first dark match of the night, Shingo Takagi got to in El Phantasmo, but pretty much all the Japanese guys were jobbing all night long.  This isn't to say that all NJPW guys were losing, but the only ones to get any notable victories were the very white Jay White and Will Osperay.  I'm just sayin'
But the biggest ding on the show in my opinion was that after the main event was over, and Jon Moxley was crowned (the bullshit interim) AEW champion, instead of there being some sort of positive send off, respect between the two companies, the show comes to a close with Chris Jericho's stable hitting the ring to attack Moxley and Tanahashi, before Moxley's stable hits the ring and brawl back, and the announcers are literally talking up the next episode of Dynamite on TBS not TNT.
Immediately I have flashbacks to WCW Sin in like 2000 when the company was so in the shitter at the time, that they were using their PPV to try and hype up the following night's Monday Nitro, and thinking just how sad and pathetic it was.  Either AEW is already hitting that point in their promotion's lifetime, or they're really that disrespectful of NJPW to be disregarding everything they've pitched into the show to already be looking ahead to their own promotion's future television.
But anyway, I'd give the show a solid 6/10.  There were a lot of positives to have come out of the entire night, but I think many wrestling fans would agree that if things were just a little bit different with roster health, no territorial restrictions and less internal drama, Forbidden Door really could've had the potential to be a mega show that could change the course of the industry.  Instead, we were all left with just a show, that was okay, but not even close to scratching the potential of what could've been.