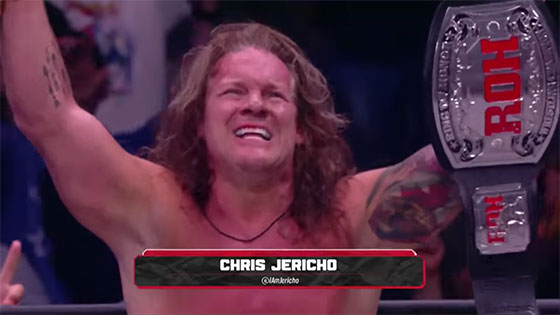 After hearing about, and then seeing the visuals of Chris Jericho defeating Cesaro Claudio Castagnoli for the Ring of Honor World championship on AEW Dynamite on TNT TBS, that was the first thing that I said: wtf is AEW doing?
Then I came to the realization that I say this almost on a weekly basis, because the promotion is always doing some weird questionable things on a weekly basis except for the precise single AEW taping that I was physically present for, where absolutely nothing substantial occurred except an amusing squash match between Brody King and Darby Allin. 
Ordinarily, I'm typically in favor of most things that benefit Chris Jericho.  Notwithstanding his unfortunate political alignment that has increasingly come to light over the last few years, I can still (mostly) separate the wrestler from the guy, and it's safe to say that I'll be able to say that I was a fan of the performer, his impressive body of work and his timelessly impressive ability to be creative, inventive and stay relevant no matter the decade.
And with an official ROH title reign now in his pocket, Jericho joins an extremely exclusive club of guys that have held gold in WWE, WCW, ECW, NJPW and ROH, with the only other guy being to my knowledge, Bubba Ray Dudley.  Jericho may never have held TNA/Impact gold before, but Bubba has also never held an AEW title before, so it's kind of a push for being the most decorated champions of all time.
But maybe it's because it's AEW and it never seems like there's ever an endgame in sight for their seemingly random booking, but I'm more left with the feeling of wtf is AEW doing, over trying to analyze the rationale for having Chris Jericho defeating Claudio for the ROH World title.
Traditionally, logic would say that Claudio is getting a push by dropping the ROH World title, as ROH is unfortunately seen as a tier below AEW, so alleviating him of a second-tier championship frees him up to pursue AEW's bigger and grander prizes.  But AEW doesn't seem to know what to do with their World championship, since CM Punk can't stop being a diva or trying to sabotage the company, so it just keeps ending up on Jon Moxley's shoulder and is barely worth its weight right now, so it begs the question on whether or not it's even worth pursuing.
Giving it to Jericho makes a little more sense, because it gives him one more notch on his mantle, of being the most decorated guy in the business, but at this current juncture of his career, where Jericho is seemingly content to be a star-maker, the hope is that the ROH brand will get a young technician to grow and rise to challenge Jericho for the ROH World title, to where Jericho can do good business with. 
However considering ROH still has no television and is completely reliant on AEW programming to advance their stories, it's probably not going to be nearly as good as the potential of it is on paper.  My guess is that ultimately it'll be Daniel Garcia vs. Chris Jericho, but it'll come at the expense of imploding yet another Chris Jericho stable, and the likely alienation and scattering of a bunch of decent workers in the process.
Such a narrative is one that requires logic, something that AEW doesn't seem to have.  With its World championship in the shitter because their long-term investment went berserk and got into a physical altercation with three executives who were also three of the boys, which was never a good idea in the first place, who also happened to immediately tank the six-man championship that the entire promotion was building up for since day one, the company's entire main event picture was decimated in a single night.
And for a company with like 15 titles in active circulation, you'd think some of these guys would actually get some television time with them right?  Take PAC for example, the guy is hands down one of the top-3 workers in the entire promotion, is holding the brand new, All-Atlantic Championship, is also co-holding one of the brand-new Trios blets, you'd think he'd get some screen time right?  No way!  After winning the title in June, he doesn't make his first televised appearance with it until August, and that's on Dark, and literally this past Wednesday was his first-ever Dynamite defense of the title.  The belt has literally been seen more at non-AEW shows than it has been at AEW shows.
So I suppose with such a tumultuous roster, something's gotta happen somewhere, so why not start with this, but damn if it just doesn't seem like something interesting as much as it's wtf is AEW doing, again?