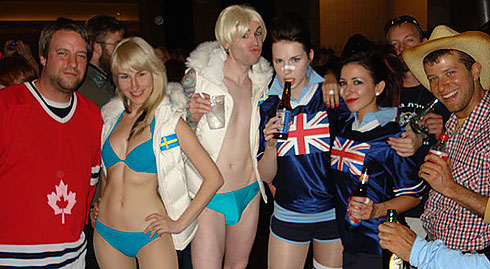 That time of the year has come and gone again. People stayed over at my house again. Another year has passed where my boy Evan has followed me to Turner Field, and inexplicably watched the Mets beat the Braves, in spite of their polar opposite records (the Mets suck). Another year that over 50,000 nerds descended on Atlanta, on the same weekend as 10,000 gay black men, and 60,000 college football enthusiasts, with there bound to be some overlap here and there. Another year, another Labor Day Weekend, and another Dragon-con.
The difference is that last year, I discovered the secret to enjoying Dragon-con, and I actually looked forward to applying such a theory to this year's. That being said, another year has passed where I look back and estimate that I consumed somewhere around 23 or so beers during the weekend, another year where I took a lot of photographs, and another year that the overall conclusion is that it wasn't a bad weekend.
It wasn't the most perfect weekend ever, but seldom do such stretches of time actually exist. I got to hang out with a lot of interesting people, surprisingly, I didn't eat that much like a oinker this weekend, but I most certainly did my share of boozing. I didn't take as many pictures as I thought I would take, but I'm generally pleased with the ones I did take; I focused slightly more on capturing the occasion, the people I know and like, and the events that made things fun and lively.
What I didn't like: For whatever reasons being, Dragon-con seems to be getting too big for its britches. It doesn't seem to matter how many hotels, programming is extended to, because the obvious choice of conglomeration is still the Marriott. And because of such, the Marriott is also the point where the most action, good and unfortunately bad occurs, to the point where security has become a prominent issue during the convention. Staffers who funnel and direct patrons, and most notably, security guards in the evening, that actually began checking for badges and key cards; the detracting reasons why I stopped bothering to even set foot in the Hyatt anymore. I managed to get around most of these obstacles, but it doesn't really change the fact there are still thousands of people crammed into the Marriott's general walkways and passages, making for some cramped quarters at times. It makes me pine for the old Marriott layout, where there was plenty of floor space, plenty of lounge space, and a much brighter atmosphere.
What I did like: a whole lot more, fortunately. I can't say that I could really enjoy Dragon-con without a couple of drinks in me, but once the boozahol starts flowing a little bit, I tend to enjoy myself pretty well. Almost always, I enjoy the company of those I like, and it was simply pleasant to see a lot of people whom I hadn't seen in a long time. In an ironic way, it is a little unfortunate that I tend to turn to the bottle for help to have a good time at Dragon-con, but whatever; without it, I remain bitter and grudge-bearing, and all the random stupidity of those strangers around me would make me homicidal otherwise.
Anyway, there were a lot of good moments and interesting stories this weekend. Time to reminisce a little bit.
First off, we have Dave, whom is typically about as hairy as Osama bin Laden's beard. But since he was determined to dress as Cheetos, he made the ultimate sacrifice and hopped on the bed, and lathered up under a gallon of hot wax, and came out smooth as a baby's butt.
Black-on-black cryme tyme going on here, as Marriott security tackles the shit out of a thief.
And then I saw Stan Lee in an elevator.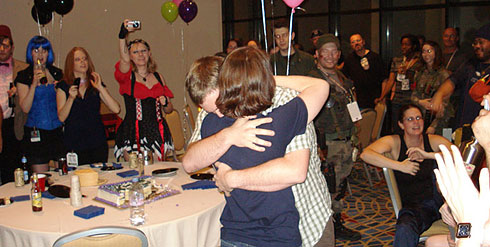 Without much question, the best occasion of the weekend was my boy Ruis, proposing to his girlfriend, and now has a fiancee. It was a very happy occasion for a guy I've known for nine years now, and what a lot of people are unaware of are the deep, heartfelt chats we've had over the intertubes, where I read for myself just how ready and grown up he has become throughout all these years. Despite the fact that the proposal was done at Dragon-con of all places, and the subsequent geek reaction to any sort of news these days.
Saturday's highlight for me was the Beerfest group. Of course, being a resident @Zn guy, my only real option is to be a part of the Japanese team, donning my clandestine black suit and red tie. More or less it's an excuse to play dress up and drink, but if anything at all, it's surrounded by a lot of pretty girls, and a completely justifiable excuse to drink myself to oblivion.
And then Sunday was just another reason to come out, drink some more, and hang out with familiar faces, and catch up a little bit. While drinking.
Time for some of my favorite pictures:
Stig, and female Stig.
Kenny Powers. You're fuckin' out!
Chick versions of Harry and Lloyd, from Dumb and Dumber.
I've never really cared about Battlestar Galactica, but this Six was very appealing to me.
Someone apparently beat Jesus's ass and gave him a shiner lol.
This Aqua-Woman, was simply put, ridiculous. In every manner of complimentary adjectives to describe aesthetic appeal.
Oh, and out of all the costumes I had hoped to see, there was only one RE5 Jill Valentine; but not the catsuit variety.
But in the end, I'm more proud of all the pictures I took of all my friends, acquaintances, and those of whom I'm quite keen on. Because those are the images and memories that really matter in the end, chronicling the people, activities, and events, that we were all a part of.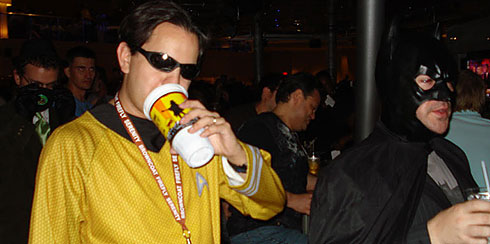 And because Serge was so adamant about being a part of my eventual recap, here he is. Wearing a Star Trek uniform shirt, some shades, and not shown is the Merlotte's Bar apron (homo). But most importantly, he's drinking some highly alcoholic swill out of a Moe's large soda cup that I have no idea where he acquired, because there are only a handful of Moe's in the Atlanta area (because they suck balls compared to Willy's), let alone ones within reasonable walking distance for lazy Dragon-con nerds.
And there we have it. If you want to see the rest of the photos, well, click on the damned link to the photos section.