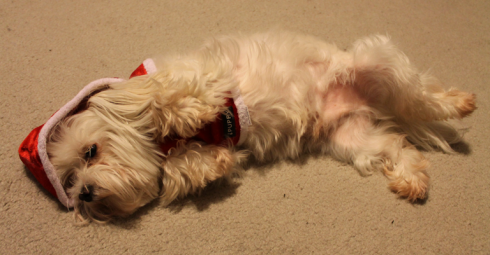 Another year, another Christmas.  Once again, I stayed home for Christmas this year, and it was nice to stay at home and sleep in, watch Parks and Recreation, eat like crap, stay up late and watch more Parks and Rec, for the better part of a four-day weekend.
I gave some gifts and received some gifts, to which I'm thankful for.
There's really not a whole lot I have to say about Christmas this year, not that it's really different from any other Christmas in the past, I suppose.  But for what it's worth, I hope everyone reading this is enjoying their own holiday seasons, and that their lives are going well enough.  And on that note, I leave you all with pictures of the dog, in his seasonal Santa gear.