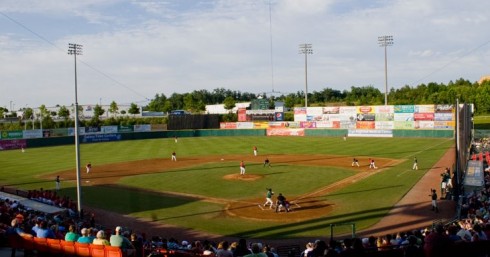 What I mean by "Ten outs in Hickory," means that I literally only stayed at the game for ten outs being recorded.  In other words, my brother and I stuck around the game for just a little bit over one inning of a nine inning game, before leaving.  This was also after driving 2.5 hours from Raleigh to get to Hickory.
This is the kind of shit why I always "joke" about being the worst baseball fan in the world.  I drove 2.5 hours to Hickory, because they were giving out a Chipper Jones bobblehead, that I really wanted.  As for the game itself, I honestly didn't really care about it, and after walking around the small minor league park, I felt that I had gotten enough feel for the place.
Besides, it turned out to be the smartest choice; not only did I end up having to leave early the following morning, which would have made staying in Hickory for anything more than an official contest or longer a really bad idea, Hickory's opponents hung five runs on them at the drop of a hat.  Sure, it's low-A ball, but those are the kind of deficits that are hard to dig out of at any level.
But there, are still a bunch of pictures, which means that soon, there will be an update to the ballpark project.