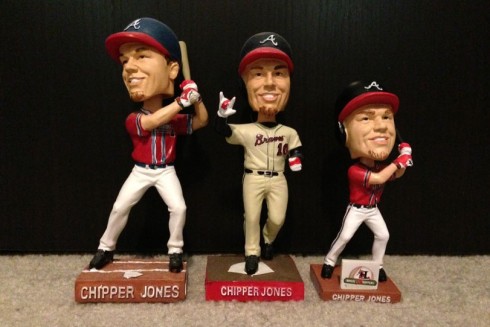 As I've already admit to, I traveled all the way to Hickory, North Carolina, so I could get a Chipper Jones bobblehead. Nevermind the fact that logically, there was absolutely no reason for a Texas Rangers affiliate, or a team that Chipper Jones hasn't ever played for to be giving away a Chipper Jones bobblehead, when they announced that they were giving away a Chipper Jones bobblehead, I knew that I had to have it.
Thanks to myself for having way too much free time on my hands, and thank to my brother who graciously went to Hickory with me, I got the bobblehead, and it makes me happy.
But here's the funny thing about the bobblehead; when I saw a picture of it on the Hickory team's website, I thought to myself that it looked kind of familiar. That didn't/wasn't going to stop me from making the play for it, but I couldn't help but feel like this rare minor league ballpark giveaway was going to be as rare as people like me were thinking it was going to be.
Basically, the photo above are Chipper Jones bobblehead giveaways from 2011, 2012, and then Hickory's on the right end. When I saw the bobblehead on the Hickory website, my first thought was that it was 2012 Chipper's head on 2011 Chipper's body. Which kind of means that it's like this odd FrankenChipper bobblehead made from the parts of two different Chipper Jones bobbleheads from the past.
This wasn't an outlandish hypothesis, because it's obvious that the companies that make baseball bobbleheads have pretty standard templates for bobbleheads, and it's not that often in which players get pretty unique or trademark poses. For example, I have at least two other bobbleheads that are essentially the same body of the 2011 Chipper. 2012 would be a good example of a truly unique bobblehead, considering the fact that he was in his swan song season, and it's only fitting to show him in what's pretty much his trademark home run trot.
But based on the image from Hickory's site, I thought that I recognized the look of the face as 2012 Chipper's head, and the body from 2011 Chipper. When I got home, and I put them all side-by-side-by-side, here's what becomes obvious.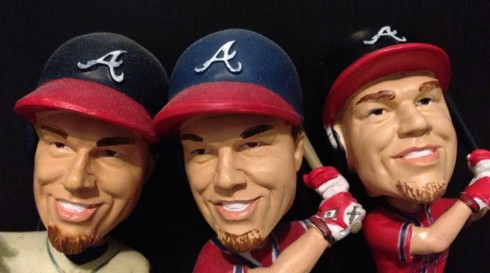 They're all the same head. With the exception of the color of the helmet, the shape of the head and the expression on the face are undoubtedly identical in all three Chippers. The conclusion of this is that there is essentially one mold for Chipper Jones heads, and it's used in all three of these applications.
So to some degree, my statement of 2012 head on 2011 body is essentially true. But it's also safe to say that Hickory's Chipper Jones is also essentially a re-release of 2011 Chipper, but with the body smaller, and their own individual nameplate on it. But due to the fact of helmet colors, my theory is more true.
However, the point remains is that I put forth a pretty high amount of time, money and effort to get to Hickory so I could get this bobblehead, and I'm happy to have gotten it, since for all intents and purposes it is a collectable item, but visually it's pretty much nothing new or unique at all. It's basically 2011 Chipper, but with a smaller body and a different colored bat; the size of the head is same.
The funny thing is that if all goes according to plan, I'll be making a play for another Chipper Jones bobblehead, next week, in Jacksonville, Florida. So the question is going to be if that is going to be equipped with the same head on it, and with a generic-posed body or not.