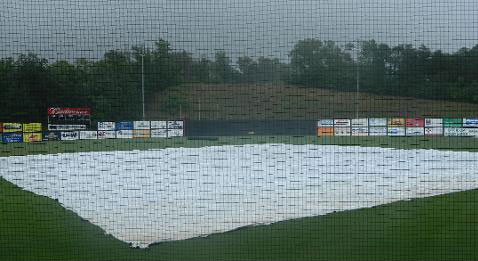 Last week, I had a general idea of a schedule in which I wanted to write what I wanted to write about SDCC, and when I wanted to have my Comic-Con photos all sorted, processed and ultimately uploaded.  Basically, I told myself that I wanted to have everything done in a week.  Because, I was going out of town during the weekend to gather another bobblehead as well as see a new baseball park, and then I would have more photos to sort and share, and something else to write about next week.
I made my trip out of town over the weekend, but apparently the rains that have plagued Georgia over the last fucking year two months decided to come along with me, and proceed to ruin the one thing I really wanted to accomplish.  Needless to say, it rained just enough for the Danville Braves to cancel the one game I had planned on going to see.  Naturally, the announcement came LITRALLY minutes before my brother and I pulled into the parking lot, not to mention that it had actually stopped raining when we entered Danville itself.  But all the prior rain had sufficiently soaked the outfield to unsafe playing conditions and for the D-Braves to call the game.
I did not get to see a Danville Braves game.  I did not collect a Craig Kimbrel bobblehead, on account of the fact that they did not officially open the gates.  And I also did not get to see my bros from Charlottesville who were already an hour en route to Danville when I had to break it to them that the game was cancelled.  I was not pleased with how that evening turned out.
Sure, it's baseball and rain is always a possibility with an outdoor sport that has a ton of games in which rain could come into the equation.  But in spite of the fact that I've done my fair share of traveling to go watch baseball in other towns and cities throughout the years, I can actually say that this is the first time that rain has actually cancelled a game on me when traveling.  That in itself is kind of amazing, but it doesn't make the circumstances suck any less that it pretty much ruined my main objective of my entire trip.
It was supposed to rain when I went to Pittsburgh, but it didn't.  It turned out to be a beauty of a day, and I came in, saw my game, and left without weather being an issue.  Same thing with Detroit, and Mississippi.  Philadelphia and Boston got rain, but not enough to cancel the games.  Throughout all these previous years, I've often managed to elude the rain, or at least get my feet in the door before it became a factor.
Needless to say, I wasn't happy with how things turned out over the weekend.  If not for the fact that I got to spend some time with my brother and catch up on a litany of crappy movies like Wolverine 5, World War Z Only By Name¸ and Sharknado, it would have been a wash.
So, I guess it's back to the drawing board with looking for things to brog about in the coming days.