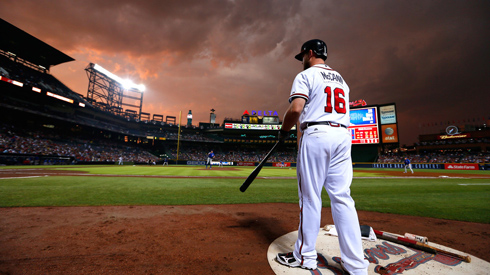 It seems like it was just yesterday, when Brian McCann hit a three-run home run off of Roger Clemens in the playoffs.  And in the metaphorical tomorrow when we refer to next year, the 2014 season, Brian McCann will no longer be a member of the Atlanta Braves, but the New York Yankees, who have historically been known to gobble up players of the highest talents simply because they can afford to.
Contrary to the popular notion that "everyone hates the Yankees," I actually don't.  Sure, it's sometimes frustrating to hear how the rich keep getting richer, whenever the Yankees secure the services of yet another highly talented free agent, but the fact of the matter is that in spite of their organization's propensity to believe that championships are acquired by amassing the most talent, regardless of how much it may cost, the Yankees are just as subject to the crap shoot of winning baseball championships as would be teams with far lesser payrolls, like the Oakland A's, the Tampa Bay Rays, and the Atlanta Braves.  They've won just one championship since the start of the millennium.
It's easier for me to say this, given my gradual detachment from rampant Braves/baseball fandom, but I'm happy for Brian McCann.  He would have been absolutely stupid and out of his mind if he turned down the contract that the Yankees offered him (five years, $80 million).  As a man now in his 30s, with a toddler of his own, the opportunity to essentially secure his entire family's financial well-being in such a fell swoop is a total no-brainer for McCann.  Even though I'm southern born-and-bred and a Braves fan, I can't be mad at McCann for taking this deal and going up to big bad evil New York; like I said, he would be completely mental if he didn't.
Regardless of the quick acceptance of the departure of one of the best Braves players in the last decade, it really is a melancholy time for Braves fans.  For the better part of the last eight years, McCann was a force on the roster; at first being the chubby-cheeked, baby-face rookie who hit so well upon his call-up, and we in Atlanta watched him mature into a man who grew up before our very eyes as he hit home runs, made All-Star games perennially, and accepted and took on responsibility as one of the team's core leaders.
But when the day is over, it's still more important to lead his personal team – his family.  And as unfortunate as it sounds, the Atlanta Braves aren't the same team from back when Ted Turner personally owned the organization and wasn't the least bit shy about opening up the wallet to spend the kind of dollars that probably could have ensured he stayed on the team.  Fortunately for McCann, someone was, and unfortunately for all the Yankee-haters, it was the Yankees.
It really was a no-brainer, that it ended up being the Yankees.  The writing was on the wall even a few years ago, when Jorge Posada officially retired from the team.  The Yankees had absolutely no catching relief anywhere in sight, in free agency, or in their minor league system.  I don't even need to cite any sources to know that Yankee fans and the team were already eyeing the end of the 2013 season as the time it would be when Brian McCann would hit free agency.
Joining the Yankees is win for all parties involved; even the Braves, believe it or not.  The Yankees fill a massive position of need, with Brian McCann now assuming the catching duties.  Brian McCann has $80 million smackeroos which should very likely secure his and his family's financial freedom for a very long time.  And even the Braves, with McCann departing, actually receive a compensatory draft pick in next year's draft, and in this day and age of baseball, those draft picks have the chance to be massive jackpots, although usually the results are really far off.  The only ones really not happy with this are the diehard Braves fans that are also Yankee-haters; I would have to say that maybe 3-4 years ago, I would be one of them, but I guess I'm kind of growing up, and just don't care that much anymore.
But even still, I will say that it a little sad to hear about McCann moving on.  It's been eight years, so it's always been kind of a given to expect seeing Brian McCann behind the plate and hitting 20 home runs a year.  I've always been a fan of his, even when there was that five minutes when everyone else was fawning over Jeff Francoeur over him.  By no means am I not going to continue to be a fan of Brian McCann, because he's still an awesome baseball player, but more importantly a person that I grew to like.  He was always respectful of the game (although sometimes a little overkill), and was always cordial and polite to the fans and media alike.  And the guy was a huge fan of Saved by the Bell, which is always a positive thing in my book.
Not next year though; likely not any other year again, for that matter.  Baseball players' careers don't last forever, and especially catchers, who endure more physical battery on a nightly basis than anyone else.  Brian McCann is a Brave no longer, and that simple thought, does kind of suck.  I'll have to move his bobbleheads off of the top shelf, and tuck him in the back with former Braves/former-team bobbleheads like Mark Teixeira, Shin-Soo Choo, David DeJesus, and Josh Johnson.
I'm sorry to see him go, but I will sincerely wish him the best throughout the rest of his career.  At least being on the Yankees, there's a high probability of seeing him on television fairly often, as Yankee games are highly favored by all MLB-broadcasting networks.
Happy trails, Heap.  You'll be missed in Atlanta, for sure.